Annual Report 2002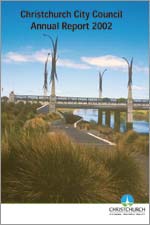 The Annual Report provides an opportunity for the Council to give account of what has been achieved during the year ended 30 June 2002.
It enables the community to judge the Council's performance in achieving the objectives set out in its 2001 Plan.
The Annual Report and audited financial statements of Christchurch City Council, together with the report of the Audit Office, were adopted by the Council on 28 November 2002.
The Annual Report was published on 20 December 2002 by the Office of the City Manager, Christchurch City Council, in compliance with S223E of the Local Government Act 1974 (as amended), ISBN 1-877313-06-8.
Table of Contents
These documents are PDFs. You will require the free Adobe Reader to view them.