Mayor Garry Moore
Biography
I was born in Palmerston North on the 8 January 1951 and received my schooling there.
I have a passion for old motorcars and shifted to Christchurch because the Vintage Car Club was founded here and this city is surrounded by roads which are great for vintage motorcars. I own a number of old cars including a Morris Minor convertible, Austin 7's of various kinds and years and have just completed a Chrysler special.
I trained as a Chartered Accountant at Palmerston North Technical Institute and completed my studies at Christchurch Polytechnic. I met my wife Pam Sharpe at Christchurch Polytechnic where she was studying nursing and we married in 1977. We have four children, two girls and two boys.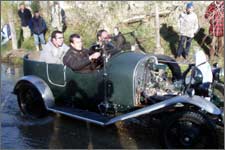 Chrysler special
My career started in the private sector and has been mostly in the public sector. I worked as an accountant in the public sector and then, in the 1980s, worked for a number of employment programmes as New Zealand restructured its economy. As farmers lost their SMPs and their wives started craft shops to supplement the family incomes; as freezing workers and forestry workers were laid off I was there working alongside them from literally the Far North to the Deep South. It was a time of huge structural change and it was exciting and exhausting. One of the projects which I worked with from the start was Whalewatch with the wonderful, but sadly the late, Bill Solomon, one of the finest people I have ever met. I still serve on the Board of Whalewatch and Wally Stone and his team delivers a world-class experience.
I was appointed onto the Area Health Board in 1989 and served until the Boards were abolished in the "Mother of all Budgets" in 1991. I enjoyed this experience greatly and decided to stand for the next Local Body elections in 1992. I was elected and served as a Councillor for two terms, the second as Chair of the Community Services Committee and Safer Community Council.
In 1998 I was elected Mayor and have served in this position ever since.
During this time, Council has continued the public ownership of our assets and has established an Economic Development Fund of $75 million to support economic and community development in our city. This fund is administered by a joint board of Councillors and representatives of the Canterbury Employers Chamber of Commerce and Canterbury Manufacturers Assn. We also have independent people on the Board.
Christchurch City Council swam against the tide of "sell everything which isn't bolted down", in the 1990's and as a result the book value of the assets in our trading company, Christchurch City Holdings Ltd, has gone from $350 million to $1200 million producing dividends in excess of $500 million to this city. I serve on the Board of Christchurch City Holdings Ltd. Without the dividends of this company our rates (which are the lowest of the big cities in NZ) would be at least 15% higher.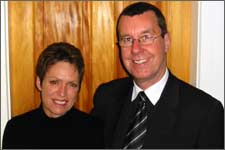 Garry and Pam
When the City Council formed a Central City Mayoral Forum in 1999 many people, with both a public and private interest in the Central City, agreed to serve on it. A 20 year plan has been developed for the Central City and since the Forum's inception there has been in excess of $100 million invested in the Central City by both the public and private sectors.
One of my passions is employment programmes. The Mayors Taskforce for Jobs (MTFJ) was started in my office by seven Mayors in 1999. There are now 95% of New Zealand Mayors in the MTFJ, all committed to the ideal of offering our young people a sense of hope for their future. My interest in employment programmes also led me to serving on the Board of the Canterbury Development Corporation from the time I first became a Councillor.
During my time as Mayor the Council has been restructured at both the Council table and within the administration. The number of Councillors was reduced from 24 to 12 and with the incorporation of Banks Peninsula, increased to 13. The administration has been totally restructured over the past four years and the benefits of this process have led to a much more professional and accountable institution.
Safety is an issue close to all our hearts. We all need to feel safe in our homes or on the streets. Safer Christchurch was recently re-structured and I am now the Chair. I relish this opportunity as I feel that there is sufficient money in various budgets around this city for us to do a really good job with safety issues and my job, as the new chair, is to ensure that this happens.
In this term of Council the people of Banks Peninsula voted to dissolve their Council into Christchurch City. This was supported by the Local Government Commission and the Council has been absorbed into Christchurch City in a seamless manner. This is the first time this has occurred since 1989 and is a signpost of the sort of action which needs to happen widely within Local Government in New Zealand.
I am really excited by the new Local Government Act and feel that the basic genesis of the Act requires us to aspire towards a sustainable Environment, Community and Economy. Over the past two years I have been involved with a group of people who want to see Christchurch prosper and from this has grown the "Prosperous Christchurch" initiative. The groups meeting under the umbrella of Prosperous Christchurch include the education, manufacturing and service sectors. The final report from Prosperous Christchurch was adopted by the Council and incorporated into the 2006 – 2016 LTCCP.
In August 2005 I was appointed as Vice President-Oceania of the international Mayors for Peace organisation. I am passionate about the elimination of nuclear weapons from the world, and am looking forward to being fully involved with this organisation.
Years ago I started sitting on a bench in the Square on Fridays between 12 noon and 1 p.m. I have kept this up over the years and am still there on the Fridays I am in town. Come and see me if you have something you wish to discuss.