Children's art gallery a first for New Zealand
---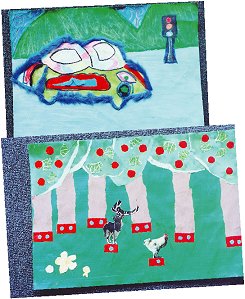 The first children's art gallery in New Zealand opens in Christchurch on Friday 18 February.

It is hoped the gallery, an addition to the Centre of Contemporary Art (CoCA) in Gloucester Street, will "inspire a sense of ownership of art galleries in coming generations", says CoCA director Warren Feeney. "Our aim is to ensure an audience for the future and encourage lifelong patronage of the arts."

Works by primary school children in the City and surrounding regions will be exhibited with art by children in Christchurch's sister cities: Songpa Gu, Korea; Seattle, USA; Kurashiki, Japan; Gansu Province in China and Christchurch, England.

CoCA has been working with City Council international relations co-ordinators Dave Adamson and Sue MacFarlane. The exhibitions are also intended to create opportunities for children to learn about different societies and customs from other children.

They will have the opportunity to connect with sister cities through Internet links, and the development of a web page.

The first exhibition is with Songpa-Gu and features work by Christchurch's Korean Community School, Thorrington, Ilam, Merrin, St James, and art by students who have attended classes at CoCA.

Mayor Garry Moore is to open the gallery at a special ceremony featuring performances by young singers, courtesy of Canterbury Opera, at 5.30pm on 18 February.

CoCA wishes to thank those who have supported the concept and construction of the gallery, especially Creative Communities, the Christchurch-Gansu Friendly Relations Committee, Christchurch-Seattle Sister City Committee, Christchurch-England Sister City Committee, Felix Carpet, Glass Tech and Canterbury Youth Art Trust.