Annual Report 2006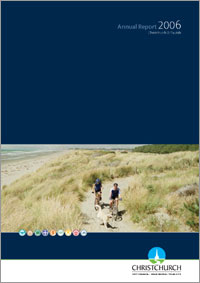 The Christchurch City Council produces an Annual Report each year to account for the money provided to it by ratepayers, financial institutions and government agencies. It shows how the Council is delivering on the outcomes the community wants.
This report makes reference to the Council's strategies and plans, particularly the 2005/06 Annual Plan, and the Long Term Council Community Plan 2004-14 (LTCCP), adopted in June 2004 after consultation with ratepayers and other important stakeholders.
The annual report and audited financial statements of Christchurch City Council, together with the report of the Audit Office, were adopted by the Council on 21 September 2006.
Published on 19 October 2006 by the Office of the Chief Executive, Christchurch City Council, in compliance with s98(4) of the Local Government Act 2002. ISBN 1-877313-28-9.
View the Annual Report 2006
These documents are PDFs. You will require the free Adobe Reader to view them.
View the 2006 Annual Report by section:
Matters relating to the electronic presentation of the audited financial statements
This audit report relates to the financial statements of Christchurch City Council and group for the year ended 30 June 2006 included on Christchurch City Council's web site. The Council is responsible for the maintenance and integrity of the Christchurch City Council's web site. We have not been engaged to report on the integrity of Christchurch City Council's web site. We accept no responsibility for any changes that may have occurred to the financial statements since they were initially presented on the web site.
The audit report refers only to the financial statements named above. It does not provide an opinion on any other information which may have been hyperlinked to/from these financial statements. If readers of this report are concerned with the inherent risks arising from electronic data communication they should refer to the published hard copy of the audited financial statements and related audit report dated 21 September 2006 to confirm the information included in the audited financial statements presented on this web site.
Legislation in New Zealand governing the preparation and dissemination of financial statements may differ from legislation in other jurisdictions.