Annual Report 2005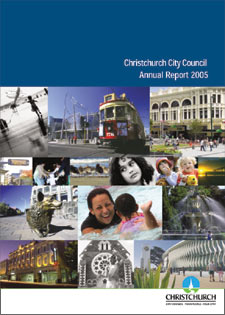 The Christchurch City Council produces an Annual Report each year to account for the money provided to it by ratepayers, financial institutions and government agencies. It shows how the Council is delivering on the outcomes the community wants.
This report makes references to the Council's strategies and plans, particularly the Long Term Council Community Plan 2004/14, adopted in June 2004 after consultation with ratepayers and other important stakeholders. The activities undertaken by the Council aimed to achieving the following goals, as outlined in the LTCCP:
Community cohesion and well-being
Economic development
Environmental sustainability
In achieving these goals, the Council sought to respect the need for:
Democratic governance
Essential infrastructure
Financial stewardship
Treaty of Waitangi and cultural diversity
View the Annual Report 2005
The annual report and audited financial statements of Christchurch City Council, together with the report of the Audit Office, were adopted by the Council on 15 September 2005.
Published on 12 October 2005 by the Office of the Chief Executive, Christchurch City Council, in compliance with S98(4) of the Local Government Act 2002) ISBN 1-877313-20-3.
These documents are PDFs. You will require the free Adobe Reader to view them.
View the 2005 Annual Report by Section: