Neighbourhood Plan
A Neighbourhood Plan, which aims to help retain and build on the physical and social character of St Albans, is being prepared by the City Council.
As part of the public consultation process, this special edition of Our Environment is devoted to updating you on the progress of key issues and projects in the area. It also explains the purpose of the Neighbourhood Plan and describes some initial ideas possible in the St Albans area. We are keen to know your views on these issues and ideas.
The Council recognises that the designation of land for the northern arterial road through St Albans has had a negative impact on the area. As a result, money has been allocated for physical improvement works.
Projects such as the enhancement of parks and the use of alternative planting and roading treatments to strengthen the identity of individual streets will be considered.
In addition, the Neighbourhood Plan is seen as a means to promote positive ways to address residents' concerns over the rezoning of part of the area for higher density residential development.
The Neighbourhood Plan has a number of specific aims:
to improve the appearance and character of the neighbourhood areas through development of streets and open spaces;
to improve traffic circulation and safety;
to improve pedestrian and landscape links between community facilities;
to encourage good building and site design appropriate for the location;
to provide a basis for both publicly funded projects and community self help;
to provide a means to focus and co- ordinate various interests.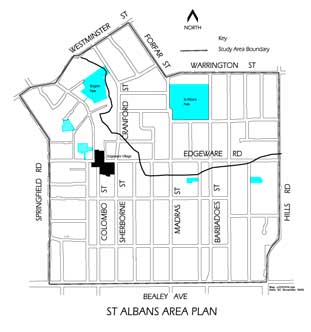 Neighbourhood Plan Boundaries
The Neighbourhood Plan is bounded by Bealey Avenue, Springfield Road, Hills Road and Warrington Street.
Physical boundaries for the Neighbourhood Plan needed to be manageable in terms of strategic planning, community input and the ability to instigate action. More specifically the Neighbourhood Plan had to:
include the area rezoned from L2 to L3;
cover the area required to co- ordinate the large number of local Council projects.
Time Frame
We recognise that residents will want to see results of the Neighbourhood Plan process as soon as possible. For this reason the plan will focus on projects that can be achieved within a five- year time frame. This will allow local expectations to be realised and also for the plan to respond to changing needs of the community. For more information please contact:
Josie Schröder
Phone 941 8932