Our Water
Water – a most precious resource. When studying water it's important to think not just about what comes out of the tap, but also what runs through the city in our many waterways -rivers, streams, creeks and drains.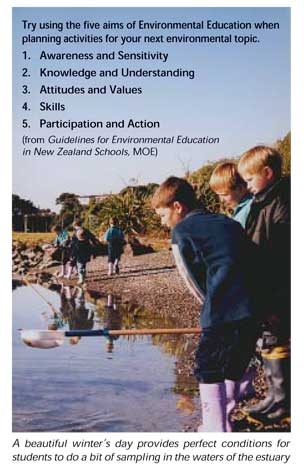 The city's water facilities, waterways and wetlands provide a wonderful context for delivering your water topic in terms of education in, about and for the environment – the three dimensions of environmental education. There are great opportunities for out-of-theclassroom-experiences when you are studying water whether you are focusing on water supply, wastewater, or looking at the plant and animal life that exists in our waterways and wetlands, and the impact we as humans are having on these valuable ecosystems.
Sumner School's Year 4 students discovered the wonders of the Avon-Heathcote Estuary during a visit to McCormack's Bay last term, organised through the Council's Environmental Education Programme for Learning Experiences Outside the Classroom. With a focus on "How people's activities can have a damaging effect on natural and cultural features of the environment" (Social Studies, Place & Environment, Level 2: 1.3) the estuary, an important feature of their local environment, provided the perfect context for their unit of study.
In the classroom students had looked at what an estuary is, the special nature of estuarine water and identified plants and animals that live in this type of environment (EE Aim 2). In preparation for the visit the class was taken through an activity to look at 'How to be great visitors to the estuary', considering the environmental impacts they could have as visitors and how to reduce or eliminate these on the day (EE Aim 1).
The hands-on focus of the visit gave students the opportunity to learn safe sampling techniques in the water and ways to investigate life in the mud with minimal disturbance to the 'residents' (EE Aims 1 & 4). 'Catch' of the day included estuarine prawns and anemones, chitons, limpets, fan worms, barnacles, cockles, whelks, mud snails and crabs. To round off the experience the Catchment Activity had students tracing the path of the city's water from the mountains to the sea, looking at what goes into our waters along the way and thinking of great ways they can improve the environment for life at the estuary ... and then picking one and doing it! (EE Aim 5)
Here's what a couple of students thought they could do:
"I think I can help the estuary by not washing cars with soap."
"Next time I go to the estuary I will pick up lots of rubbish."
Water-related Environmental Education Programmes
for Learning Experiences Outside the Classroom
Sites Available for Visits
Sample Learning Contexts
Water Supply and Wastewater
Main Pumping Station – Colombo St
Water Supply & Conservation.
Wastewater Treatment Plant – Pages Rd, Bromley
Wastewater Disposal – where it ends up!
Waterway & Wetland Experiences
Avon-Heathcote Estuary & Brooklands Lagoon
Water Pollution, Human Impact on Estuaries and Plants and Animals of an estuarine environment
The Groynes

Styx Mill Conservation Reserve

Water Pollution, Human Impact on our Waterways and Aquatic Life Surveys – a close-up look at what is lurking in a fresh-water environment!
Bexley Wetland
Importance of Wetlands, Human Impact on Wetlands, Travis Wetland Plants and Animals of a Wetland.
All programmes are led by experienced educators and provide hands-on experiences. Bookings are essential!
To make a booking for:
Water Supply and Wastewater visits phone 381 5870 (Rochelle) or 381 5728 (Raelene)
Waterway and Wetland Experiences contact the Parks and Waterways Unit on 941 6840 and ask for the Ranger in that area.