Century-old Trees Part Of Family's Legacy
A picturesque strip of woodland running alongside the Heathcote River in Beckenham is an enduring legacy of the Clark family.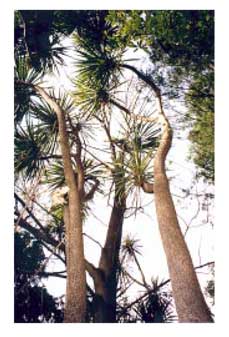 Some of the trees in the Ernle Clark Reserve are at least 100 years old. They include a Spanish chestnut, English ash and oak which feature in the City Council's list of notable trees. So too do seven cabbage trees, their spiky foliage contrasting with exotic trees stripped down for winter. Young native plants also add a welcome touch of green.
The reserve is named after Christchurch aviator L. Ernle Clark (1906-1964) who received a hero's welcome from 20,000 people in 1936 after flying solo from England to New Zealand, only the second person to do so. He was later awarded the Distinguished Flying Cross by King George VI in 1941 for his role during World War II.
Ernle Clark was a grandson of Charles Clark who arrived in Lyttelton in 1856 on the Egmont. Six years later, Charles purchased the 20 hectare Thorrington estate – bounded by the Heathcote River, Colombo Street and Cashmere Road – for 2000 pounds. English woods were planted along the Heathcote River to the north of a spring-fed pond now overlooked on the southern side by large modern houses. The old Thorrington homestead, where Ernle Clark lived for many years, and the neighbouring Wairoa homestead built in 1905, have been demolished.
Ernle Clark Reserve is now the most tangible reminder of the Clark family and its links with Beckenham. The reserve is also an attractive route for strollers and joggers and a magical picnic spot in summer.
Jennie Hamilton