New Partnerships Underpin Aranui Renewal Project
Aranui is about to undergo major physical and social changes as a result of a groundbreaking community renewal project.
The Christchurch City Council, Housing New Zealand and the Aranui community are joining forces "to enhance Aranui as a good place to live". The three-way partnership is a first in New Zealand and is expected to deliver major environmental, social and economic benefits for the struggling community.
Housing New Zealand plans to spend millions of dollars improving the quality and mix of housing in the area bounded by Breezes, Pages and Wainoni Roads, and the Avon River. In addition the project aims to improve:
the physical environment including streets, parks and other amenities;
social opportunities and the social environment, including boosting community pride, strengthening connections between individuals, business and community groups, and encouraging better services to the area;
economic opportunities, including providing employment and work experience opportunities.
The Aranui project reflects the City Council's new triple bottom line philosophy where decision making and planning should consider social, environment and economic impacts in order to create a sustainable city.
The partnership was effectively launched last year with the signing of a memorandum of understanding between Housing New Zealand and the City Council. "It's the partnership with Housing New Zealand that is new," says Council project manager Ian McKenzie. "The political environment has allowed that. Both organisations feel they can make a difference by getting organisations and groups to work together."
Aranui had been targeted for housing renewal by Housing New Zealand and the Council. HNZ has a high concentration of housing in the eastern suburb, including some properties which are expensive to manage and increasingly obsolete. The Council owns 24 units in two elderly persons housing complexes.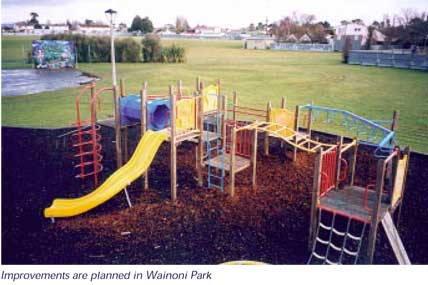 In addition, Aranui ranks among the most deprived 10 per cent of localities nationwide, based on the findings of the Degrees of Deprivation Study released late last year. With the city's highest unemployment rate and the lowest median income level it faces additional problems from low educational and health outcomes. While Housing New Zealand has earmarked significant sums to upgrade its housing stock in the next four years, the City Council is still scoping its involvement and financial commitment.
The Council is looking at developing a programme to improve streets, parks and public facilities to complement work being undertaken by Housing New Zealand. Funding has already been earmarked for youth amenities and Wainoni Park children's play equipment.
George Watson, who has been appointed Community Consultation Co-ordinator, is based in the new Community and Housing Information Centre in Marlow Rd. Community consultation began in March with a hui attended by more than 150 people, including children and youth. The point was made that the Council and Housing New Zealand must deliver on this project because similar ideas were not followed through five years ago. Local people have spelled out that they want a say in what the community will look like and they want to be listened to. The community has a strong voice on the Aranui Community Renewal Committee which has now been formed. Two representatives are on the project's steering committee comprising the CEO and other senior officials of Housing New Zealand, the Council's Housing Working Party and the Chair of the Burwood-Pegasus Community Board.
Some local community groups and the area's four schools have been approached for their comments on the renewal project. Focus groups will also be used to tap community views.
Ian McKenzie says the project involves co-ordination and collaboration across central government agencies, the Council, community organisations and private sector agencies. The Council will play a key role in effectively co-ordinating these groups.
Jennie Hamilton