Square Design Meets Objectives - Architect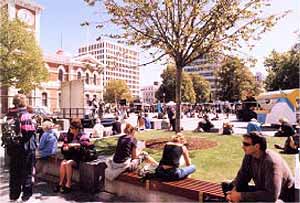 The redevelopment of the Square at last provides a clear structure for the City's key open space, says David Sheppard, one of the architects primarily responsible for the design concept adopted by the City Council in 1997.
He believes it's time for the Council to publicly support the new look Square and to work closely with surrounding property owners and the community to maximise opportunities that the layout now offers. The Council must ensure that planned artworks are put in, and manage maintenance and events. Temporary planting, if desired, can be an interim measure until the trees grow and more objects such as the Chalice sculpture are in place.
"The Council needs to push the property owners to open out wherever appropriate to provide life around the edge and to introduce improved traffic and parking management," says Mr Sheppard. "Bollarding of some areas is acceptable and recommended to prevent ad hoc parking in the Square." Plans for the final stage of the development – after the buses have been rerouted – have been developed. He says the overall design is an accurate response to the Council's brief. Its key objectives were to reestablish the Square as the City's premier urban space and to give pedestrians priority over motor vehicles.
Other objectives included the removal of visual clutter including barrier walls and trees placed over the years in haphazard places; replacing the lighting with a more pedestrian friendly lighting level, and encouraging owners of the surrounding buildings to open out into the Square.
The $8 million price tag for the Square's redevelopment relates more to the sheer scale of the space than the use of expensive materials and ideas, says Mr Sheppard.