Riccarton Bush A City Treasure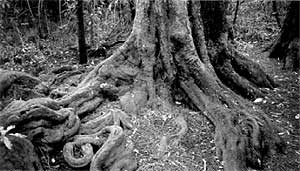 Riccarton Bush, in the heart of Christchurch, is one of the City's most important natural treasures.
Known to Maori as Putaringomotu, the 7.7 hectare native forest is the last in the line of similar forests that occupied the site of Christchurch over hundreds of thousands of years. Huge gnarled surface roots support 25 metre kahikatea, New Zealand's tallest growing species. They tower over smaller native trees and shrubs.
Riccarton Bush recently received the City Council's 150 year award for the natural environment, 1901-1950. It was presented to Charles Deans, chairman of the Riccarton Bush Trust and member of the Deans family, who gifted the bush remnant to the people of Christchurch. The bush is protected by the Riccarton Bush Act 1914 and administered by the Trust.
Changes in management style, including a stop to mowing under trees and better weed control, have allowed prolific regeneration of indigenous vegetation. Now ferns, grasses, sedges, lilies and mosses cover the ground. The bush is also home to native birds such as the wood pigeon, fantail and grey warbler and an array of moths, beetles, bugs and colourful flies.
The 12 hectare Riccarton Bush Reserve, by the Avon River, also includes 150 year old oak trees and historic buildings.