Hybrid – Car Of The Future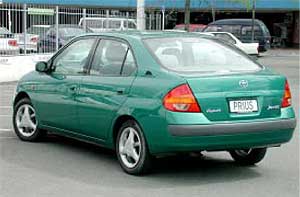 More than 60 City Council staff took to the road last month to test drive a visiting hybrid car with impressive credentials. The new generation Toyota Prius has twice the fuel efficiency of a conventional vehicle and only half the CO 2 emissions.
Feedback on the performance of the Prius was very positive. Comments included "easy to drive", "I liked the way the car performed", "I was impressed with how quiet it was", "plenty of room and good visibility". The only adverse comments were that the brakes were a little sensitive and that when the engine shut down while stopped in traffic the silence inside the car was initially disconcerting. Most said they would be happy to drive or own the Prius provided the purchase and maintenance costs were reasonable.
Given the staff response to the Prius, the Hybrid technology is clearly an acceptable alternative to the petrol- engined car. The increasing pressure on reducing vehicle emissions and from fuel price rises, combined with production cost reductions and clever technology, means that the Hybrid car is likely to be the next generation of vehicle.
The Toyota Prius design philosophy is to incorporate a hybrid drive system within a standard production type car ie steel body panels along with all the features normally expected in a car of the type. The Hybrid differs from an ordinary car in that it has a petrol engine and an electric motor drive plus batteries.
Its sophisticated onboard energy management system monitors the car's energy demands then adjusts the power supplied by the petrol engine and electric motor to minimise the energy use and hence vehicle emissions. What this means is that energy balances are continuously changing while driving. Fuel consumption during the trial was 6.4 litres/ 100km (44 mpg).
Toyota has not released these cars for sale nor confirmed the cost. However, when it does, provided purchase and operational costs are reasonable, we can expect to see these cars on our roads reducing emissions, saving fuel and keeping the inner city noise down.
Paul McNoe