Environmental Awards Announced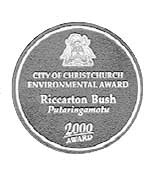 Special environmental awards to mark Canterbury's 150 th anniversary have been announced by the City Council. They were presented during the annual environmental awards ceremony in the Bellamy's wing of the Canterbury Provincial Council Buildings on December 15.
In the built environment section, the Provincial Council Buildings received the award in the 1850- 1900 category. Described as the most outstanding of the Central City's Gothic Revival buildings, it is the only purpose built provincial government complex still standing in New Zealand. The Cathedral of the Blessed Sacrament (see below) was the recipient in the 1901-1950 category, and the Christchurch Town Hall, designed by Sir Miles Warren, received the award for the 1951-2000 category.
The award in the natural environment's 1850-1900 category went to Hagley Park, described as a legacy of careful Victorian urban planning and the City's most significant park. Riccarton Bush, standing in "splendid isolation" in the middle of the City, received the award in the 1901-1950 category, and Victoria Square, "an outstanding public green space within the Central City", was the recipient for the years 1951-2000.
In the year 2000 environmental awards, the New Brighton Library, Pier and Clock Tower received the award for the built environment for providing a much needed community and urban focus to the seaside suburb. The award for the natural environment went to the McLeans Island area for providing a major recreation asset while retaining its primary flood protection function. One of the City's most successful community groups, the Christchurch Beautifying Society, received the award for services to the environment.