Christchurch Naturally – Discovering The City's Wild Side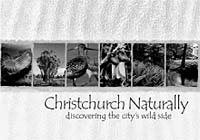 A new book highlighting and celebrating Christchurch's natural treasures will be available later this month. Produced by the City Council, Christchurch Naturally is filled with images of local indigenous plants, insects and animals, and their natural settings.
The text is designed to illustrate the fascinating images and reminds us why we must cherish the City's biodiversity. Almost 25 per cent of nationally threatened flowering plants, including the very rare pygmy button daisy and a native forget-me-not, survive in or around Christchurch. Of New Zealand's threatened animal species, 15 per cent occur in Canterbury. The book explores the diversity of native species in our four main ecosystems – the coast, wet plains, dry plains and Port Hills. It then emphasises the opportunities for rebuilding Christchurch's biodiversity in the urban area by planting locally sourced indigenous plants.
Produced by a working party of experts on the City's natural resources, Christchurch Naturally is inspirational rather than technical. "We wanted Christchurch people to feel excited about the fascinating and wonderful nature we have right under our noses in the City," said Dr Diane Menzies, the leader of the working party. "We have plants and animals here that are no where else in the world. We also have remnants of the special features of Canterbury and New Zealand and conserving those natural communities… is important. We hope this book will be a stepping stone to encouraging even more understanding and protection of the City's natural assets."
Costing $24.95, Christchurch Naturally is available in City bookstores, the Civic Offices and City Council service centres and libraries.