Catholic Cathedral An Impressive Landmark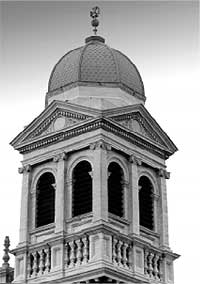 The imposing Cathedral of the Blessed Sacrament in Barbadoes St has long been recognised as one of the finest examples of ecclesiastical architecture in New Zealand. Even playwright George Bernard Shaw praised architectengineer Francis Petre as a New Zealand Brunelleschi for his innovative touches in the neoclassical building in Barbadoes St. Now the Catholic Cathedral has received a special 150 year environmental award from the Christchurch City Council.
The cathedral's consecration in February 1905 followed six tempestuous years of planning, cost concerns, refinements and construction. The Rt Rev Dr John Joseph Grimes, Roman Catholic Bishop of Christchurch, dreamt of a cathedral that would honour God and grace the rapidly developing City of Christchurch.
He originally intended to build an essentially Gothic cathedral, in keeping with contemporary thinking. However, Petre convinced him that a neo-classical basilican plan was a better option in earthquake prone Christchurch. Also the latter was more suited to concrete construction favoured by Petre, and it would be less costly. Even so, the architect's plans had to be scaled down by a quarter to reduce costs. Contractors J and W Jamieson took four years to build the cathedral measuring 64m by 32.3m and requiring more than 3.36 cubic metres of stone, 112 cubic metres of concrete and more than 80 tonnes of steel. Its construction is recorded in a photographic display in the gallery.
Although the cathedral's original style is based on the old Roman basilicas, there are important differences. For example the 41m dome is placed above the sanctuary instead of above the junction of the nave and transept. The great weight of the dome rests on four modelled piers and arches leading up to a cylinder of Corinthian columns and an inner dome. This great space, combined with the colonnaded apse, is one of New Zealand's finest works of architecture," says Sir Miles Warren, who has directed the building's conservation since the 1970s.
The ambulatory and gallery provide a feeling of space and the beauty of the interior is further enhanced by traditional and modern stained glass windows, mosaic tiling in the sanctuary and ceilings of embossed zinc. With its imposing columns, tall- domed towers and majestic dome, the cathedral is a landmark in the south of the City. Ornately carved Oamaru stonework softens the vigorously modelled exterior. The overall result is "the grandest, most commanding neo- classic building in New Zealand", says Sir Miles.
Jennie Hamilton