Green Light For 'our City' Information And Resource Centre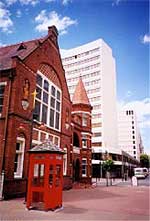 A new information and resource centre known as 'Our City' will be established in the former Municipal Chambers. Christchurch City Council last month approved the setting up of the centre in the historic red brick building on the corner of Oxford Terrace and Worcester Boulevard.
The centre, to be used by the public, the Council, interested professionals and community groups, will be:
A resource centre where information, plans and data about Christchurch City are brought together;
A focal point for education about the City's environment, its past, present and future;
An information centre where details plans and maps of current new development projects, buildings and subdivisions could be displayed;
A centre where details such as a comprehensive list of historic buildings, creative housing projects and conservation parks are available to visitors;
A place where the historic development of the City could be displayed by maps, modules, aerial photographs and computer simulation.
Community groups connected with environmental issues could also be located in the building, which was vacated by Christchurch & Canterbury Marketing earlier this year. One of the major benefits of the 'Our City' centre is that it will be a one- stop shop for the general public to find out about environmental issues. Groups can showcase new initiatives that will improve the local environment and help the City achieve its aim of environmental sustainability.
The building, registered as a Category 1 historic building by the NZ Historic Places Trust, is itself recognised as having outstanding historical significance. It was designed in 1887 by prominent local architect Samuel Hurst Seager, who opted for the then popular Queen Anne revival style for the new civic chambers. The Council will next year embark on a three year programme to restore brickwork, stonework, window joinery and the roof of the building.
Jennie Hamilton