Recycled glass used to recycle water
Recycled crushed glass is being used in a new product for swimming pool filtration.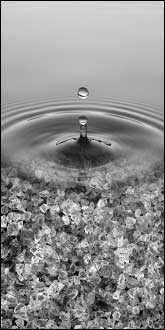 FilterCrystal, developed by the Recovered Materials Foundation, is suitable for use in any high-rate sand filtration filters in place of traditionallyused quartz sand.
It is a superior filtration medium due to the angularity of the granules and a tighter range of particle size, resulting in better filtration. The product exceeds New Zealand standard specifications for swimming pool filter media.
Following trials, the Christchurch City Council now plans to switch to using FilterCrystal in all its pools as filtration systems are upgraded. The RMF also has on-going orders with pool equipment suppliers throughout Christchurch.
An organisation similar to the RMF, The Clean Washington Centre based in Seattle, USA, has undertaken extensive research into the performance of screened crushed glass in filter applications over an 18-month period. Results from its studies concluded that recycled glass media compared favourably to conventional sand media through:
Improved water clarity shown by a 25 per cent reduction in National Turbity Unit (NTU) readings;
Increased backwash efficiency shown by a 23 per cent reduction in water used for backwashing;
Approximately 20 per cent less glass (by weight) is required for filtration.
Glass filter media appeared to catch more turbid particles, thereby cleaning water more effectively and efficiently. This may allow pool filters to be operated for fewer hours to achieve desired water clarity, thereby saving energy and equipment life. More efficient backwashing uses less pool water that has already been chemically treated, heated and filtered and requires less operational and staff time.
(Source: Clean Washington Centre, Seattle, 1998) The net result is not only good news for recycling in finding viable uses for so- called "waste" materials, but also in terms of wider environmental benefits for water and energy conservation.
The Recovered Materials Foundation is a not-for-profit trust set up by the Christchurch City Council to develop local markets for recyclable materials. FilterCrystal is just one of the many products developed from crushed glass collected through kerbside recycling. The RMF glass crushing plant is capable of producing clean crushed glass product in a range of sizes from one tenth of a millimetre, right up to five millimetres in length. Other uses for this product include: sandblasting, asphalt and concrete aggregates, landscaping, hydroponics, architectural coatings and glass flooring.
For further information contact the Recovered Materials Foundation, ph 348 0595.
Sarah Gordon
Research and Education Officer, RMF