Sponsors back new Coast to High Country education programme
More Canterbury students are tuning into environmental issues thanks to a new project sponsored by Shell NZ and local organisations.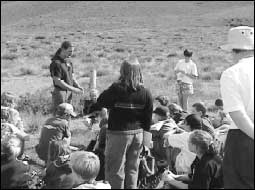 The Coast to High Country programme is based at the Environmental Education Centre at Craigieburn.
"It was very interesting comparing the sounds that were at Castle Hill to the sounds at Craigieburn," said Louise, a pupil at St Patrick's School. Her comment echoed the positive feedback of many of her classmates who spent three days on a field trip based there. "I would love to go again," said Amy. "We played good games that taught me a lot. It was great." Principal Mark Gregory said the activities linked in well to relevant issues at each site. The learning journal supplied provided a focus for all student activities and was a wonderful record of the trip.
Coast to High Country, presented by full- time teacher Toby Johnson, is a three-day field trip/ camp for students from Year 7 to Year 13:
Day 1 explores sites and issues from Pegasus Bay to Craigieburn;
Day 2 develops environmental awareness through activities and lessons based at the education centre;
Day 3 explores further sites and issues on the return to Christchurch.
The field trip approach allows activities to be tailored to the class' area of study.
Activities developed at the centre focus on issues such as the impact of introduced species on native flora and fauna, the effect of recreation activities on the environment, interrelationships between living things and their environment, the intrinsic value of natural corridors and development of specific skills such as decision making. The programme is a joint initiative by Shell NZ, which pays the teaching salary, the World Wide Fund for Nature, Christchurch College of Education, Environment Canterbury, the Department of Conservation and the Canterbury Environmental Trust.