Modern City bus exchange en route
The new inner city bus exchange, designed to revolutionise public transport in Christchurch, is scheduled to open on 4 November.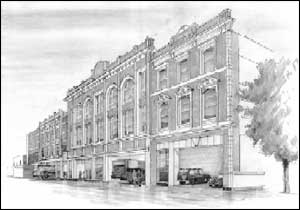 Passengers will wait for their bus in comfortable surroundings similar to an airport terminal. Sound reducing glass will separate the two lounges from interior bus lanes and passengers can refer to real- time information on screens to find out exactly when their buses will arrive.
The exchange is part of The Crossing complex at the corner of the City Mall and Colombo Street. Also included are recently- opened ground level shops and a first floor food court with airbridge connections to Ballantynes and the Triangle Centre. A 200- space car park will complete the $40 million redevelopment. "The bus exchange is a major modernisation of public transport as we know it in the City," says Dave Hinman, Principal Policy Analyst at the City Council. While high quality facilities similar to this are provided overseas there is nothing comparable for bus passengers in New Zealand. Work on all aspects of the development is on target, according to Mr Hinman. The exchange, which links retailing and car parking with a modern passenger waiting area, is an important aspect of inner city revitalisation, he says. Not only will it bring people to the commercial core of the City but it has already rejuvenated a key part of the city while retaining its character through the retention of heritage facades in Lichfield Street and the City Mall.
The Carter Group, owner of The Crossing, is building the $19.6 million bus exchange and car park for the City Council. Once completed, the Council will manage the bus exchange in partnership with Environment Canterbury.
The exchange is expected to cater for more than 15,000 passengers a day. Buses using the nine internal stops will enter from Lichfield Street then depart along a contra flow bus lane in the one way street. Passengers waiting for buses at the other six stops on either side of Colombo Street can still wait in the exchange, which has entrances off all three streets bounding it.
Buses for all city routes can be boarded at the exchange where they will only remain long enough to drop off and pick up passengers. Four termini will be located near Hoyts 8, behind the Convention Centre, the corner of Rolleston Avenue and Cashel Street, and by Christchurch Polytechnic.
The staged relocation of buses from the Square will occur on 4 November this year and 1 April 2001. Although some buses will still travel through Cathedral Square after April next year they will not stop there.
Construction of the bus exchange is occurring in tandem with the progressive upgrading of buses and bus route changes. New ticketing systems will reduce queuing and speed up boarding times. A single coin fare has already been introduced and Environment Canterbury is investigating the use of smart cards.
Meanwhile, moves are underway to reduce traffic congestion in the City Centre to improve traffic flow generally and allow buses to keep to their schedules. Special bus, taxi and cycle lanes will be introduced in Colombo Street and parking times and spaces altered. More five and ten minute parking areas and loading zones will be available.
Construction of the bus exchange is expected to be completed well before the official opening date, providing opportunities for trial runs, public open days and displays.
Jennie Hamilton