Sounding out the great spotted kiwi
A team of kiwi listening volunteers led by the Department of Conservation went into the Lewis Pass in January to listen for the haunting night calls of the threatened great spotted kiwi (roroa).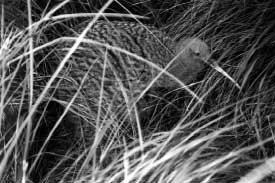 The trampers spent two hours each night in pairs on the hillside above the valley, listening for the birds, recording the direction the kiwi calls came from, and the sex of the birds.
The survey was part of the Kiwi Recovery programme sponsored by the Bank of New Zealand. It repeated the survey carried out in beech forest in the upper Nina Valley near Lewis Pass in 1994- 95.
Volunteer co- ordinator Lesley Shand says enough kiwi calls were heard to assume there was the basis of a viable population. It was difficult to determine the age structure of the population or if they were having breeding success. There are three discrete populations of roroa. The largest extends from Kahurangi National Park to the Buller River. The second population is in the Paparoa Ranges, and the smallest population is in the Southern Alps between Arthur's Pass and Lewis Pass. As part of the Kiwi Recovery Programme permanent count stations have been set up in the south and north branch of the Hurunui River and Arthur's Pass.
The current population estimate for the roroa is about 20,000 birds. The only place in Canterbury where the roroa is actively protected is in the Hurunui Mainland Island in Lake Sumner Forest Park. Intensive predator control of stoats and ferrets, as well as removal of possum (which disturb nesting kiwi and damage vegetation), is part of the project's integrated management approach.
DOC ornithologist John Kearvell says juvenile kiwi up to nine months old are unable to defend themselves. It is therefore essential to get rid of predators as well as restore the forest home of roroa.
Janine Gray
Department of Conservation