Energy showhome helps save money
A special house at 10 Leander Street, Papanui, has holes in its walls, ceiling and floor.
It is the Christchurch City Council's energy-efficiency show home opened last month by Mayor Garry Moore. Within walking distance of Northlands Shopping Centre, the three bedroom energy show home is believed to be the only house of its type in the country.
The Council's energy manager, Leonid Itskovich, says the purpose of the house is to make people more aware of energy efficiency and its health benefits. It will also increase people's understanding of Christchurch's clean air and energy efficiency programme, which is designed to reduce winter smog and provide healthier living conditions.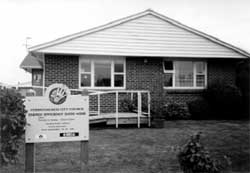 The show home was built in brick with a tile roof and open fire in the 1960s. Like most Christchurch homes of that period it had no insulation or other energy-saving devices. Council staff have insulated the house and installed non-polluting heating and other energy-efficiency features. Water conservation methods are also included. With cut-outs in ceilings, floors and walls, visitors can see how many of the measures work.
Samples of double-glazing are displayed along with information on heating fuels and systems. Advice will be given on comparative costs. Dr Itskovich says cost savings will result from using any of the measures demonstrated in the house. The Council has only used energy-saving methods which are affordable for average Christchurch residents.
"We have a team of professional energy advisors who will give independent and competent advice on insulation, heating and related matters, and Council financial incentives available for non-polluting heating and insulation," says Dr Itskovich.
The energy show home is open from 11am to 6pm each day, except Wednesdays when it is used for seminars and group visits.
Groups wanting to use the home for seminars or visits on Wednesdays should contact Leonid Itskovich, phone 941 8793.