White-flippered penguin chicks on the move
Moves to establish a safe haven on Banks Peninsula for Canterbury's unique but endangered white-flippered penguin population got off to a flying start in January.
Forty six white-flippered penguin chicks were transferred by helicopter from Motunau Island to a new home at Harris Bay, Godley Head. The chicks joined an existing colony in Harris Bay, which is protected by steep cliffs and predatorproof fencing.
It is hoped the transfer will be the catalyst for establishing a large colony, resulting in greater protection for the species. The project is also likely to lead to educational possibilities, research and, ultimately, visitor viewing of a penguin parade.
The Port Hills 2000 penguin project, funded principally by The Community Trust and The Pacific Development and Conservation Trust, has a long- term proposal to extend the Harris Bay breeding area to Boulder Bay, which would also be protected by a predatorproof fence.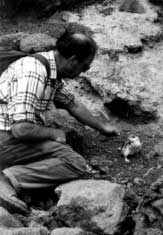 Development of the colony is the culmination of Dr Chris Challies' 29-year interest in the white flippered penguin (eudyptula albosignata). A Christchurch ecologist and world authority on small penguins, Dr Challies' monitoring of the penguins was responsible for detecting the rapid decrease in numbers.
During January Dr Challies and two other members of the penguin task group spent a weekend on Motunau Island selecting and banding suitable penguin chicks ready for the transfer. The chicks were placed in purposemade carriers divided into two compartments, with each compartment holding a pair of chicks. The penguin chicks from Motunau Island (60km offshore) were airlifted to the ridge above Harris Bay. Volunteers unloaded the helicopter, fixing the penguin carriers to specially modified backpack frames, one carrier per backpack, for the steep climb down to the bay.
Rick Tau from Tuahiwi, representing Te Runanga o Ngai Tahu, blessed the penguins before their departure from Motunau Island and again on their arrival at Godley Head.
The chicks were placed in nest boxes until the following day when Dr Challies released them. Within several days the chicks headed out to sea at night. They are expected to return to Harris Bay in October 2000.