Greenager Awards go countrywide
Canterbury's Greenager Awards are going nationwide.
The environmental awards have been presented to young people in the region up to the age of 18 five times a year since 1994. Now teens, young environment committees, classes or schools throughout New Zealand can enter the awards recognising outstanding projects that protect, conserve or enhance the environment.
The national awards, sponsored by the Body Shop, will continue to be co-ordinated by environmental education consultant Tanya Jenkins.
Last year's local recipients included Burwood Primary School, which has been a leader in environmental education. Pupils have studied the nearby Travis Wetland, prepared submissions to the City Council and planted their school grounds in native trees and grasses.
Chisnallwood Intermediate was also singled out for its proactive environmental education programme. Visits to Travis Wetland, the estuary, native tree nursery, native bush and the Port Hills allowed students to have a wide range of experiences.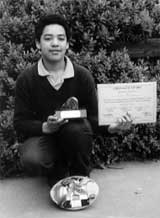 Simon Shikongo, an Aranui High School student, received a Greenager environmental award in July. Fifteen-year-old Simon is well known to groups such as the Travis Wetland Trust and Trees for Canterbury for his planting of native trees. A member of the Yellow-eyed Penguin Trust and a junior ranger at Orana Wildlife Park for 10 years, Simon is considered a native tree and bird expert by his teachers and school mates.
Kaikoura's tiny Woodbank School, comprising 20 pupils, impressed parents and the community with a play capturing local whaling history. Pupils and parents regularly collect cans, paper, glass and paper for recycling and feed their organic scraps to a worm farm to make compost for the garden.
The final award last year went to Glentunnel School, which also has a thriving worm farm. Liquid is collected in plastic bottles and sold at the school gate. Resulting funds are used to buy library books.
For more information about the Greenager Awards contact
Tanya Jenkins, phone (03) 332 0099.