Think Fencing campaign aims to lower barriers
A forest of mean fences springing up around Christchurch has spurred two community groups into action.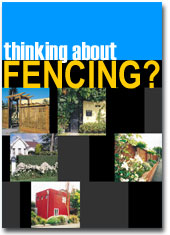 The National Council of Women and Keep Christchurch Beautiful have launched a Think Fencing campaign to encourage residents and developers to build no, low or open fences to maintain open, friendly streetscapes. They are concerned about the number of fortress–like fences creating bleak surburban corridors and fragmented neighbourhoods.
The Thinking about Fencing? information kit contains fact sheets covering a range of fencing issues such as safety, shared fencing, rules for boundary fencing, fencing materials, living fences, fencing close to waterways and fencing in new developments. It also provides details about cheap fencing materials and designs.
"Arming property owners and developers with this information will help them choose a fence design – or no fence at all - that enhances the property, beautifies the street and allows for neighbours to watch out for each other's security and well being, " says Peggy Kelly, chairperson of the National Council of Women environment committee.
At the launch of the Think Fencing campaign, local NCW patron and Mayoress Pam Sharpe suggested that an annual fencing award be made to promote good fencing design. A non fencing award was also proposed.
Campaign organisers say they accept that fences are sometimes needed in urban landscapes to act as buffers against noise and traffic fumes, to provide privacy and to protect children and pets.
The folder holding the fact sheets is designed to show people a diverse range of colourful and functional fencing options and combinations. Its message is that clever management of a property boundary can improve the look of the property, adding to its street appeal – and value.
The Think Fencing fact sheets initially focus on purpose and need. They seek to dispel some of the myths associated with high, impenetrable (mean) fences. For instance erecting a high solid fence for security reasons can have the opposite effect, allowing intruders to walk around houses and gardens unobserved.
The fact sheets also raise questions that property owners may not have considered. For example some fences can create wind shelter or funnelling, shadowing and frost areas, restrict sunlight and put limitations on landscaping.
The Thinking about Fencing? information pack will soon be available from service centres, libraries, the Civic Offices and selected DIY, fencing and nursery outlets, and at www.ccc.govt.nz/Publications/ThinkFencing .
For further information please contact the campaign co-ordinator, phone 941 8832.