Group Maintains Watch On Marine Life
Protecting this country's coastal and marine life and its habitat is the main aim of Marine Watch Trust New Zealand.
Achieving that ambitious objective can involve anything from rescuing oil-clogged seabirds to monitoring the antics of Dumbo the southern elephant seal.
The Christchurch-based trust is the first volunteer organisation contracted by the Conservation Department to handle day-to-day marine wildlife incidents within New Zealand. So far it has responded to more than 1,100 call-outs.
Formed in 1992 Marine Watch now has more than 90 operational members. Co-ordinating them is Jim Lilley whose passion for protecting coastal and marine life rules his life. With his Linwood home as the organisation's base, it seems very fitting that the skeletons of a leopard seal and strap-toothed whale sit on his garage roof.
Secure funding from the DOC contract has enabled the trust to develop an administration system linking volunteers, archiving resources and effective networks throughout the country.
Another essential support base is the dedicated band of volunteers who become involved in the urgent rescue and rehabilitation of marine life ­ day or night. Trust records show that operational members have been involved in over 250 incidents involving seals, resulting in the capture, treatment and rehabilitation of 115 of them.
Marine Watch has also been involved in 72 strandings, from Parengarenga Harbour in the Far North to Kakanui in the south, saving 524 of the 932 whales and dolphins
But it is Dumbo the celebrity elephant seal who has posed the biggest single challenge. Dumbo has visited local beaches 12 times over the last five years. This kept 40 members busy for 1,811 hours, responding to 644 call outs to people harrassing Dumbo or Dumbo harrassing people.
Marine Watch was the first group of its type to receive hands-on experience dealing with oiled wildlife after a diesel spill in the Botanic Gardens in March 1996. When the vessel Don Juan sank near Stewart Island in October 1998, the group was call in to set up a rehabilitation centre for wildlife.
The trust has also been at the forefront of annual Christchurch Clean Up the World campaigns targeting our rivers, beaches and harbour. A machete, mannequin, photocopiers, keys and wallets are just some of the items plucked out of the Avon River in the clean up.
To Jim, removing rubbish from our rivers is part of Marine Watch's brief. "What ends up in the river often ends in the sea. That can end up in a 1am call out."
As well as a very hands-on role rescuing marine life, he says the trust also has an important research role, collating information on both living and dead whales, dolphins, seals and birds.
Jim and other members are intent on educating people on the need to protect our environment and to increase New Zealanders' understanding of the value of marine life to this country.
Jennie Hamilton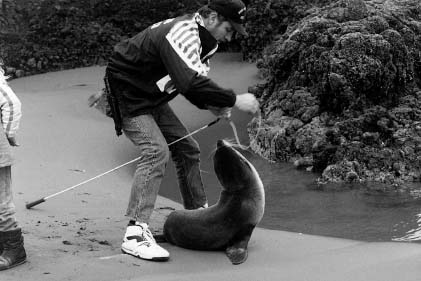 Jim Lilley returns a seal to the water.