Alice, 6, has eye for detail
Six-year-old Alice Wilson was so intent on adding the correct finishing touches to her drawing of the Cathedral of the Blessed Sacrament that she urged her mother to take her back to the Barbadoes Street landmark for another look.
She was one of dozens of Christchurch children who entered the Heritage Week art competition sponsored by the City Council and the Christchurch Star. Alice received a highly commended for her efforts. She chose the Cathedral "because it's beautiful and I like the green colour," she said, referring to the dome and doors.
Alice's eight-year-old brother Cameron won the six to 10 year section with his painting of the Durham Street Methodist Mission Church. He particularly liked the iron hinges of the sturdy timber doors of the old stone church. Sister Charlotte, aged 4, opted for a water colour of the Forsyth Barr building in Armagh St and was placed second in the three to five year section.
Entrants were asked to draw their favourite Christchurch building old or new. Two children at Cotswald School were reminded how quickly some of our buildings disappear. The school's administration block drawn by Jonathan Marsh, aged 11, and Deborah Moore, aged 10, just a few months ago has been demolished. Their drawings are now a treasured record.
Judges were treated to a range of interesting perspectives of one building when seven pupils at St Anne's School drew the High Step Shoe Store in Ferry Rd. Three-year-old Kate Potts' winning picture of the Scarborough clock tower started out as a swimming pool. Judges were charmed by the little clock pasted at the top of the brightly coloured picture.
In the 11 to 15 age group two pencil sketches were particularly outstanding. Alice Canton, 12, were awarded first prize for her drawing of the Peterborough Centre while Nicola Congdon, 15, was placed second for her picture of the Old Stone House.
Senior heritage planner Jenny May, who was one of the three judges, said she was impressed with the care, thought and attention to detail that had gone into compositions. All entries were displayed in Lady Isaac's environmental education caravan at the new art gallery site during Heritage Week.
Jennie Hamilton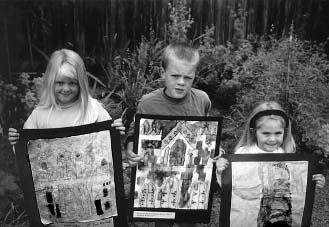 Alice, Cameron and Charlotte Wilson