Creative Approach To Graffiti Vandalism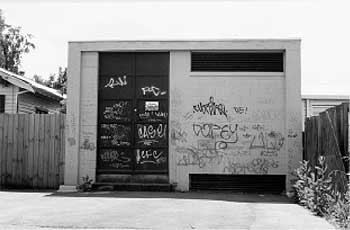 Graffiti clean-up costs in Christchurch are estimated to be around $300,000 a year. The uncounted cost is an increase in the fear of crime, breaking of community spirit and loss of civic pride. In Charleston, graffiti vandalism is a common problem and a real concern to residents.
A programme is currently underway across the City to reduce graffiti vandalism by tackling the problem in a more comprehensive way. Included in the programme is the Graffiti Hotline for reporting graffiti, the graffiti removal team, and a Legal Arts Programme. While most people probably know about the Graffiti Hotline, the Legal Arts Programme may leave you wondering.
Sharon Williams coordinates the programme, which is an attempt to redirect graffitists into legal activities.
Advantages of the Legal Arts Programme include:
Providing a positive environment in which graffitists can redirect their energies and express their art form legally;
Promoting community safety by providing a well-run programme;
Reducing the incidence of graffiti vandalism;
Developing ways of diverting young people away from graffiti vandalism and towards positive, creative and productive pursuits;
Promoting community awareness regarding the reporting of graffiti and ways of dealing with graffiti;
Promoting civic pride.
How does the programme work?
The Legal Arts Programme provides young people with mentors who are competent artists and appropriate role models. Locations are also sought where graffitists can direct their energy without causing problems for property owners. The programme acts as an avenue for graffitists to utilise their artistic talent to gain recognition in an acceptable and legal way. It is hoped that some will eventually graduate to paid work that utilises their artistic ability.
Contact: Sharon Williams
Ph: 941 6327

Graffiti Hotline
Ph 0800 824 433