Ngaio Marsh House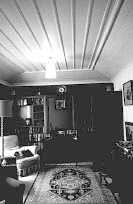 The City Council has been given a pat on the back for its encouragement and assistance to the Ngaio Marsh House and Heritage Trust.
It has received the Ngaio Marsh Society International's Green Room Award for making possible the Trust's preservation of Dame Ngaio Marsh's Marton Cottage at 37 Valley Road, Christchurch. The renowned mystery writer, actress, journalist and producer/director of Shakespearean productions lived there all her life.
The cottage was designed in 1904 by distinguished architect Hurst Seager for his cousin Rose and her husband Henry Edmund Marsh. Dame Ngaio was their only child.
Visitors are welcome, by appointment (tel: 337 9248).