Heritage Conservation Policy
Christchurch City Council's heritage conservation policies have been incorporated in a new easy-to-read booklet now available to the public.
It states that the City's history and location have given Christchurch a distinctive character, much of it derived from buildings and other structures. Future economic development as a significant tourist destination is dependent, to some extent, on conservation of its heritage buildings, places and objects.
The Council has listed 570 of these in the 1995 Christchurch City Plan. In addition it owns or controls about 65, devoting considerable resources to their conservation.
Effective management of the City's heritage requires a mix of regulatory and non-regulatory approaches. The new policy document combines policies in the City Plan with all other Council policies on heritage. Policies outlined are: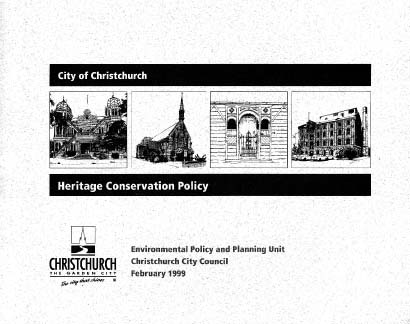 conservation principles
heritage research
heritage identification and listing
conservation plans
heritage protection
the Building Act 1991
adaptive reuse of heritage buildings
conservation incentives
heritage education and promotion.
Together, they are intended to provide a comprehensive framework for heritage conservation in Christchurch.
New uses sought by the Council for the reuse of heritage buildings will:
have a complementary relationship with the heritage and streetscape qualities of the buildings.
ideally generate a number of complementary and "spin off" uses for other heritage buildings in the area
involve the retention of the maximum amount of heritage fabric in accordance with a conservation plan.
Conservation incentives include setting aside a yearly allocation of money for grants to owners of listed heritage buildings, waiving fees for non notified resource consent applications for conservation work, and providing specialist conservation advice and research to owners of listed heritage buildings, places and objects.
Rates relief may be permitted in some circumstances. Reductions of reserve contributions for development projects can also be considered, where cultural features of a site, including heritage buildings, are preserved.
Jennie Hamilton