Award for Big Green Heart
Brian Newbery, the driving force behind St Martins Supermarket, has been recognised for his big environmental heart. He received the Supreme Big Heart Award from Mayor Garry Moore at the Christchurch Environment Centre's inaugural Green Heart Awards.
Mr Newbery was recognised for his outstanding environmental ethic and commitment to the promotion of organics and labelling of non genetically-engineered food products.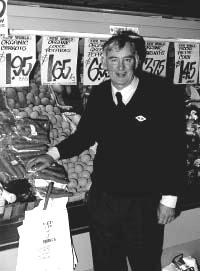 The judging panel was looking for the business that was going the extra distance to promote or implement ecologically sustainable activities. While many businesses nominated for the award were involved in important activities such as recycling, waste minimisation and energy efficiency practices, it was Mr Newbery's visionary actions in the labelling of food products that earned him the major prize. Organisers said Mr Newbery, through his actions, had demonstrated a genuine commitment to the environment at a cost to his business. "He is taking a financial risk by doing this," said Lisa Menzies, marketing manager of the Christchurch Environment Centre. "It may not be the most economically viable way to run his business but he truly believes that the long-term benefits to his customers and the environment are far more important.
"We want to send a message to other businesses. We want to say 'if you really want to win the Green Heart, you have to be different and lead the way'. Mr Newbery has certainly set the standard for others to follow," she said.
Highly commended "Great Hearts" were also awarded to Lucas Associates, Trees for Canterbury, Trucost and Whisper Tech for their innovative environmental policy and sustainability ethics.
The Green Heart Award was established by the Christchurch Environment Centre to reward businesses which are implementing ecologically sustainable business activities. Nominations were called for during the Festival of Romance. "That is why we chose to award the "Green Heart" during the Festival of Romance because we think the earth should get some TLC too!" said Lisa Menzies.
The judging panel consisted of community representatives from Agenda 21, Bush Society, Forest and Bird, Christchurch Environment Centre, Organic Garden City Trust, Sustainable Cities Trust and Native Forest Action.