New Air Pollution Website
Teachers and students can now turn to the internet for facts and figures on Christchurch's winter air pollution problem.
Environment Canterbury (Canterbury Regional Council) has set up the website on air quality as an educational resource for schools. For students, the site provides a range of fun, inter-active activities, including posters to colour in and word puzzles. For teachers, there is essential information on where the resource links into a range of curriculum areas. For everyone, there is information on the extent of winter air pollution and its causes.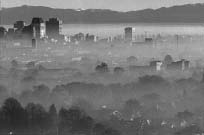 "We receive many calls from both students and teachers asking for information on air pollution," said Anna Norris, education officer at the regional council. "A website enables us to make material readily accessible to hundreds of people.
"We hope people using the site will not only find it informative but will enjoy making use of the range of activities it provides. Winter air pollution affects us all in one way or another and the information on the site is intended to increase awareness of its causes and effects," she said.
In addition to the educational resource, information on daily air pollution concentrations can be found on the regional council's website during the winter.
For further information contact:
Anna Norris
Education Officer
Environment Canterbury
Ph: 365 3828 ext 7203
Fax: 365 3194