Native Trees Please! Revives Past
Creating a living museum of plant life and associated ecosystems, which once flourished on Christchurch floodplains, is the aim of Native Trees Please! a Turning Point 2000 project.
Organisers intend establishing a unique native tree grove in each Community Board area, using one dominant species with appropriate companion planting.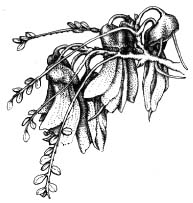 Project convenor Neiel Drain said various sites, all on Council reserves, were being studied to determine physical boundaries and to co-ordinate planting with other planned development. Appropriate tree species for each site have been ordered. The total number of trees required city wide is approximately 12,000.
Key information has been drawn from the City Council's Agenda 21 project undertaken by Lucas Associates. In this study the land surfaces of Christchurch were mapped for their approximate age, soil development and drainage. By examining surviving remnants and historic accounts, the natural mature vegetation/ecosystem for each area was reconstructed as a guide for restoration. Plant lists, including trees, shrubs, scramblers and ground covers, were then compiled for each of the ten original indigenous ecosystems.
A key factor in the success of this project is securing the full support of the Council's Community Boards and also the interest and support of the wider community, including local schools. All Boards have been kept informed of progress and most have pledged funding support for the project. School representatives were also involved in the early planning and further contact will be made with schools to enlist their involvement nearer the time of planting.
Native Trees Please! aims to provide valuable educational resources for schools as well as developing Christchurch's landscape heritage for present and future generations.