Kiwi Kids Revel In Nature's Playground
Searching for cockles in the Estuary, camping in Arthur's Pass or planting native seedlings in Travis Wetland ­ nature and fun make a magical mix for members of the Kiwi Kids Conservation Club.
Formed 10 years ago, the club is the junior section of the Royal Forest and Bird Protection Society.
Keen young members of the North Canterbury group attend outings with their families. Activities planned for March include a trip to Quail Island, a weekend of sea life, planting, history and swimming at Okains Bay, and "discovering a secret of the swamp".
Joel McChesney, 12, is about to graduate to the Teengreens after five enjoyable years in the KCC. "You get to go on trips and camps and see things with people that know a lot about them," he said. Camps at Craigieburn and Arthur's Pass were highlights for both Joel and his 10-year-old brother Sam.
Local co-ordinator and Canterbury Regional Councillor Valerie Campbell says North Canterbury, with over 400 subscribers, has one of the largest KCC memberships in New Zealand.
"We aim to provide our members with opportunities to experience the beauty of Canterbury's natural assets, to have fun exploring this world, and to share with them our concern for its preservation for the future," she says.
For a $12 individual subscription members receive regular copies of the KCC magazine, local newsletters about activities, a membership certificate with the Kiwi conservation code and a member's sticker, plus of course the chance to join in club activities. Family subscriptions and those for schools, classes and groups cost $20.
For more information about KCC write to Valerie, 393 Port Hills Rd, or telephone (03) 332 7456.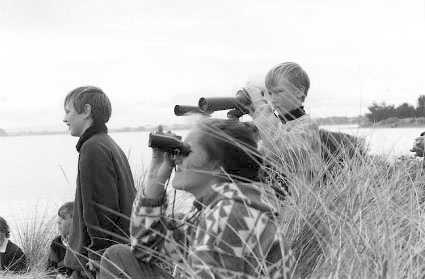 Joel (left) and Sam McChesney birdwatching on a KCC trip to the Estuary with members of the Ornithological Society.