Water Expo Competition and Web Site

As part of the Water Expo programme to schools, a competition is being held for students on 21 and 22 October. This is a wonderful way for teachers and students to display some of the follow-up work they have done on their studies on water. The venue for the competition will be in the Christchurch Convention Centre.
Details of the competition have been sent to the principals of all schools, and to teachers in charge of science,

social studies, English and information technology in intermediate and secondary schools. The information is also available on the Water Expo web site:
The competition is divided into three age groups: school year 6, school years 7 and 8, and school years 9 and 10.
Within each age group, students have the opportunity to present their work or studies about water by making a video or poster, or presenting it using a computer multi-media programme. Prizes in the form of class visits have been donated by Aquarium of Discovery, Science Alive, and the International Antarctic Centre.
Teachers have been asked to register their interest in the competition by phoning Craig McGregor on (03) 372-2417 or just completing the on-line entry form at the Water Expo web site. Entries must be received by 11 September.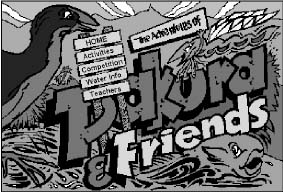 The web site has been under a long process of development with a web designer and graphic artists. It provides valuable learning experiences for students and a wealth of information for teachers intending to teach on a water theme. The interactive learning modules have been designed to guide students through the Canterbury water system, study the ecological habitat of the eel, look at the use of water in the home, and study the issue of rural to urban development and its effect on water.
On-line activity sheets allow the students to formulate their ideas and print a return sheet to their teacher with replies to the questions studied. These can then be used by the teacher for further planning to fill gaps in learning, or as assessment examples in assessing curriculum objectives.