Future Of Quarry Park Defined In Draft Plan
Plans for six sister city gardens and a Canterbury botanical collection are features of a new draft management plan for the 55 hectare Halswell Quarry Park.
A large area of farmland next to Kennedys Bush Road and Cashmere Road has also been retained in the plan now open for public comment. Submissions close on 11 September.
Halswell Quarry, which played a major role in the development of Christchurch, ceased production in 1990 after 140 years of quarrying. Its fine blue-grey stone can be seen in many of the city's prominent buildings including the Canterbury Museum and Provincial Council Buildings.
The recently released management plan updates a 1991 plan which has guided development of the quarry this decade. An extensive area of native vegetation has been planted to form a natural backdrop to the park, while a lake and open grassland have been created in the quarry. Tracks, viewing points and two car parking areas have also made the park increasingly popular for walking and other recreational activities.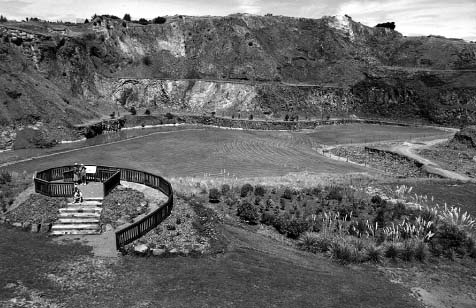 Redefined priorities for the development and management of the park are:
Continued promotion of Halswell Quarry Park's rich historical resource and the part it has played in the formation of Christchurch;
Preservation and enhancement of the quarry's rural character, open space and its value as a place for passive recreation;
Continued emphasis on native revegetation plantings to provide a framework for the site, including a native wetland and kahikatea forest;
Creation of a sister cities garden park.
With the Christchurch Botanic Gardens now "full", Halswell Quarry Park has been identified as a suitable site for a satellite botanic garden. Its varied micro climates and growing conditions can support botanical plant collections from many other countries. The concept of establishing gardens representing Christchurch's six sister cities, and a Canterbury botanical collection, has now been adopted as a millennium project.
Council landscape architect Dennis Preston supports the concept. "It will enhance one of our major metropolitan parks and provide additional educational and recreational opportunities," he says. However he points out that all exotic botanical collections must recognise the park's rural context and should be naturalistic rather than highly "manicured".
Exotic plants, which will also form central cover around buildings, car parks, picnic areas and other events areas, will cover about nine per cent of the park.
To the left of the main park entrance the Canterbury-New Zealand collection will feature original wetland native vegetation. The damp, low-lying areas, once covered in toetoe, fern, flax and raupo, were part of the "Great Swamp" at the foot of the Port Hills from Cashmere to Lake Ellesmere. This will be recreated in the valley floor through forming a wetland basin which will collect most of the valley's run-off.
Additional farmland now incorporated in the plan is recognised as an important stormwater retention basin. A tree-enclosed oval or village green setting added to the plan can be used for a wide range of events, as well as overflow parking.
New housing has been approved at the top of Kennedy's Bush Road on the south-eastern boundary of the park. The subdivision's reserve contribution will include linkages up to Kennedys Bush Track, plus walking and cycling tracks to the park.