Magic Faces Say It All
The Keep Christchurch Beautiful Campaign's Theatre in Education programme is off to another great start for the year if the faces of St Michael's School pupils is anything to go by.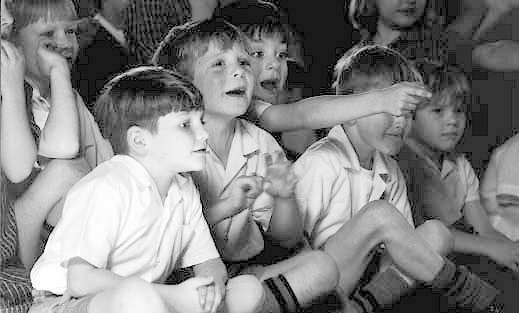 Photo courtesy The Press: Aled Poole, Alistair Lynn, Sean Keller and other St Michael's School pupils captivated by Marty and the Mess Monster
The Education Committee is offering support and finance to the Whakarite Theatre Company which is booking shows in Christchurch Schools. Two shows developed for this year are "Marty and the Mess Monster", for years 1 - 3, and "Suki and the Dragon" for years 4 - 8.
Designed to heighten children's awareness of their environment and their responsibility to it, the plays are an entertaining way of encouraging pupils to look after our environment.
With a strong Reduce, Reuse, Recycle message, and the introduction this year of kerbside recycling, these plays assist in the vital early steps in educating our children and raising their awareness of the new waste minimisation programme.
Shirley Christensen
Keep Christchurch Beautiful Campaign Co-ordinator