New Hotel Wins Heritage Award
The Heritage Hotel, described as an outstanding example of heritage conservation, received an award in the inaugural presentation of the Hagley-Ferrymead Community Board Heritage Awards during Heritage Week.
Originally built to house the Government departments in Christchurch, this building in Cathedral Square was at the centre of a protracted public debate over its future in the 1980s and early 90s. Today, in its new role as the Heritage Hotel, it demonstrates how historic buildings can be adapted to new uses.
The awards, sponsored by the Christchurch Star, were presented in the Linwood Community Arts Centre (the former Linwood Volunteer Library) by the Community Board Chairperson Cr Anna Crighton, who had initiated the scheme. They recognise efforts of the community to preserve the particular built or constructed character and heritage of the Hagley-Ferrymead area.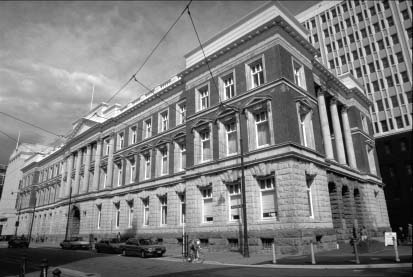 The Heritage Hotel received the award in the conservation and restoration category. Certificates of recognition were presented to the Canterbury Repertory Theatre, Wendy Fergusson and Neill Robinson of Conference Street and Glyn Abbott and Roger Hicken of 'Under the Red Verandah', Worcester Street.
The Education and Awareness Award was presented to the Sumner-Redcliffs Historical Society. Formed in 1977, the society's two decades of research has produced an extremely valuable archive of historical information. A certificate of recognition was awarded to the Gilby Neighbourhood Group.
Piko Wholefoods was the recipient of the Good Caretaker Award and certificates of recognition were presented to Mrs M. Wigley of Hereford Street, the Canterbury Caledonian Society and Frances Ryman of Englefield Lodge.
The Retention category was awarded to the former Laurie and Wilson Building, 210 Tuam Street, now the CCC Parking Unit, and certificates of recognition were presented to the Music Centre of Christchurch, the former Linwood Library (now Linwood Community Arts Centre), the Nurses' Memorial Chapel, Riccarton Ave and Wilkie and Bruce Architects for the fašade retention of 273-279 High Street.
The recipient of the Star Award was the Regent Building, originally built in 1905 as the Royal Exchange building and designed by the firm of Luttrell Brothers. Innovative styling and the use of modern materials and construction methods combined to make this the first major example of Edwardian architecture in Cathedral Square. The recent restoration and refurbishment of this significant building has ensured that it will remain one of the significant jewels in the inner city heritage crown
Recipients of the awards each received a trophy, appropriately fashioned from heritage building materials, and a framed certificate.
Chairperson of the judging panel Pam Wilson, who is also Canterbury Regional Officer of the New Zealand Historic Places Trust, said the panel found it "hugely encouraging" to learn of the pride which people had in their buildings and the work they had put into them.
Jenny May
City Design and Heritage
---
Christchurch now has a special heritage logo, created to increase public awareness of the city's heritage buildings and places.

Designed by Justine Ottey of The Yellow Pencil, the logo is based on architectural detail which focuses on a leaf motif. It was launched at the opening of this year's Hoyts Heritage Week by Neil Carrie, Senior Planner, City Design and Heritage.

The new logo has already been used on the bronze plaque unveiled at the opening of the Parking Unit's new offices at 210 Tuam St.

There are five different specification options for the logo - a two colour version, single colour version, or, three black and white versions.

The logo may be used on plaques, published documents and other material relating to heritage promotion, subject to the written approval of the Senior Planner, City Design and Heritage. For further details phone 371-1643 or fax 371-1789.

Jenny May
City Design and Heritage