Our Bus System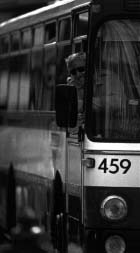 Christchurch City's public transport system is considered one of the best in the country by the rest of New Zealand. Not only are we known for our "Big Red" buses, but the whole service is highly regarded. When asked, bus users generally respond that the bus system is meeting their needs. We,in turn, need to ask why more people are not using the buses.
Today the bus system is moving around eight million people each year - considerably fewer than the 1950s when about 25 million people each year used the bus system, despite a considerably smaller population. This decline occurred over many years and was due to both the deregulation of
the bus system and cheaper cars. With the recent introduction of improvements to the system, there has been a recovery in passenger numbers,
Improvements to some bus routes in the bus system include:
Super Low Floor buses which provide easier access for all people;
Improved frequencies on some routes to provide more buses when needed;
Improved coverage in some areas to reach more people;
Integrated ticketing between companies with the introduction of transfer tickets.
At present the City Council and Regional Council are jointly producing a Public Passenger Transport Strategy to guide the public passenger transport system into the future. The purpose of this work is to find out exactly what Christchurch bus users and non bus users want in a public transport system, and what they would be willing to support. To increase the numbers of people using the bus system, it is essential to find out what all people want in a user friendly bus system.

A discussion document will be available for public comment early in 1998 and it is hoped that many people will be involved in shaping the future public transport system. The result will affect the future of the whole city.

While we're working on the strategy, if you have any issues to raise or discuss, feel free to write to:

Public Transport Strategy
Canterbury Regional Council
Freepost 1201
PO Box 345
Christchurch