Parade Plans for Penguins
Canterbury's unique white-flippered penguins may become a drawcard for eco-tourists and local visitors.
Wildlife management consultant Dr Chris Challies is exploring the possibility of a public viewing area at Godley Head.
Visitors would watch penguins emerging from the sea after dark then filing up the beach to their burrows or mingling on the foreshore. Viewing would be from October to the end of January when the birds come ashore in their largest numbers.
Dr Challies' proposal centres on re-establishing a large colony of white-flippered penguins in Boulder Bay. After studying penguins at Godley Head for more than 20 years, he believes his idea is feasible and the birds would attract a lot of interest. Little Blue Penguin parades at Oamaru are already a popular attraction.
Dr Challies says revegetating the Godley Head area and re-establishing penguin colonies there would complement Canterbury's other natural attractions including Brooklands Lagoon, Travis Swamp, the Bromley ponds and estuary, and cliffs at Scarborough. Together they could be marketed as a unique ecological crescent.
Ravaged By Ferrets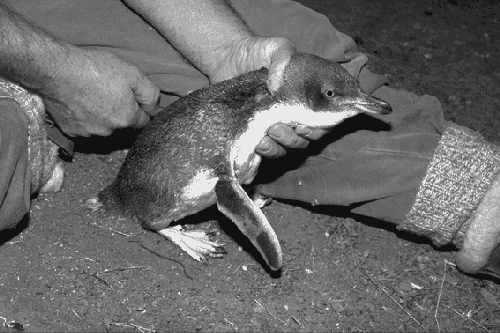 The 40cm white-flippered penguins breed only on Motunau Island and around the bays of Banks Peninsula. Although the penguins flourish at Motunau Island, the population around the Peninsula has been ravaged by ferrets since the 1980s.
As well as requiring a management plan aimed at protecting the white-flippered penguins from predators and other threats, a viewing area would generate revenue and jobs and would be an excellent education resource. School children could visit the colony during the day and learn about the birds while interested visitors could watch the penguin 'parade' in the evening.
"The more I've learned about white-flippered penguins the more I realised that their lifestyle is more complex than generally appreciated", says Chris Challies.
If there is support for a public viewing area at Godley Head he says he could establish a colony of up to 300 pairs of penguins over a 10 year period.
Although Dr Challies plans to continue working with the penguins he says a trust or other group would need to establish and manage the public viewing area.
Plans are already being developed to revegetate and fence an area of Godley Head as part of a Turning Point 2000 initiative to celebrate the new millennium. As well as increasing biodiversity, the project is aimed at protecting the habitat of local penguins.
Di Menzies, Chairperson of the Port Hills 2000 sub-committee, supports the idea of a public viewing area for penguins. "It's a very exciting idea - we're trying to pave the way for that plan," she says.
Whether the sub-committee becomes more directly involved will depend on funding and the outcome of discussions with interested groups including the Department of Conservation. Issues which need to be considered include protection for the penguins, appropriate viewing facilities and cost.
Study Colony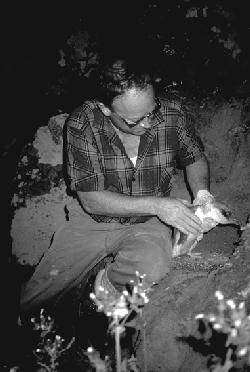 Dr Challies' main focus has been on a colony of penguins in Harris Bay, between Taylor's Mistake and Boulder Bay. Describing his interest as a hobby, he has banded and recorded the movement of all the birds there since the 1970s.
In the last 15 years he has been forced to devote increasing amounts of time to trapping ferrets which have decimated the white-flippered penguin population around Godley Head. In April and May this year he caught 25 of the predatory intruders. "If trapping hadn't been done, there would not be any penguins on Godley Head," he says.
While a Christchurch City Council-built fence now protects his study colony, trapping approaches to the bays is still the only practical way of protecting the wider penguin population on Godley Head.
Elsewhere on Banks Peninsula predation is continuing and Dr Challies estimates there has been a 60-70 per cent reduction in the Peninsula's white-flippered penguin population since 1980.
His research into relocation of the birds has revealed that it is possible to move chicks without affecting their chances of survival. Although the chicks get their bearings from the point they head out to sea, a large number of the penguins re-establish in other bays.
To build up the Godley Head population, Dr Challies has been transferring chicks from the southern side of the Peninsula to Harris Bay. Scarred hands are evidence of feisty confrontations. Although he knows the penguins only by number, he says they vary in their behaviour. "They are very individual. Some are more passive, some aggressive."
These days Dr Challies always handles the birds with black spotted white gloves. "They appear to have got used to me and have lost some of their fright."
He believes the needs of both penguins and visitors could be balanced at Boulder Bay. The birds would be closely monitored and protected and Christchurch would have another ecological attraction on its doorstep.
Jennie Hamilton