Junk Source of Inspiration
Jonathan steps up to the counter, his arms and legs encased in sections of plastic bottles. 'Don't I look like a good robot,' he says gleefully.
Creative Junk Early Childhood Resource Centre is a paradise for lively young minds. Scraps of leather, old boxes, coloured paper and a huge array of other assorted items sit in separate stacks around the distinctive old warehouse at 14 Wise St, Addington.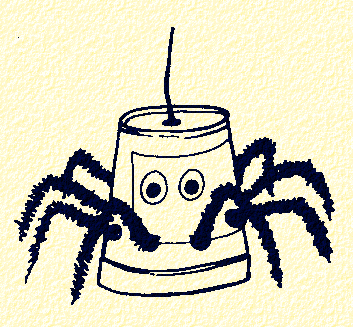 Teachers coming in for art supplies or brightly coloured materials for displays are frequent customers. Now an increasing number of families are venturing in to the treasure centre. A bag filled with materials usually costs about $3.
Creative Junk was set up 14 years ago to provide materials for underfunded organisations, says its co-ordinator Janice Loughton. It is an exchange for all sorts of cheap and reusable materials which can be used by playcentres, childcare centres, kindergartens, play groups, family day care workers, schools, holiday providers, parents or anyone using junk creatively.
Based at various city addresses over the years, the centre is looking for a bigger warehouse-type building with good access and cheap rent so it can meet the growing demand. A non profit incorporated society, Creative Junk now has more than 250 members. Family membership costs $10 and groups or organisations pay $20 to join.
Many of the off-cuts or rejects are donated or sold by factories. 'All sorts of things are created from all the different materials,' says Janice pointing to a large, floppy figure formed by her young niece out of restyled rubber pieces. Colourful off-cuts are particularly popular for babies' toys. Equipment such as tunnels, musical instruments, climbing boxes and steps can also be hired from the Centre.
Creative Junk has two paid staff; Janice and Sharon (an administrator) who both work part time. Their wages are largely funded by a Trust Bank Canterbury CommunityTrust grant.
The Centre welcomes new supplies of reusable materials. Phone 338-8047 if you can help and would like your materials to be collected.
Jennie Hamilton
Creative Junk
14 WiseStreet, Addington
Open Wednesdays 1-4pm and
Thursdays 11am -6pm
during school terms
and 9.30 to 11.30am
on the last Saturday of the month.