229 Worcester Street: 'Gibb's Cottage'
'Gibb's Cottage' at 229 Worcester St was originally the studio and home of two generations of noted Canterbury artists, John Gibb and his son William Menzies Gibb.
John Gibb (1831-1909) emigrated to New Zealand in 1876 with his wife and four sons. They travelled on the 'Merope' and arrived in Canterbury in September 1876.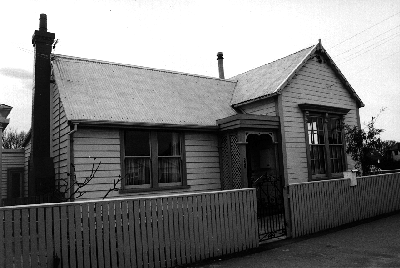 Gibb had studied art at Greenock, on the Clyde, and had been a regular exhibitor with the Glasgow Institute of Fine Arts, the Royal Scottish Academy and the West of Scotland Fine Arts Institute at Greenock. After his arrival in Canterbury, Gibb established himself as a professional artist and teacher. His work Shades of Evening, shown in the Canterbury Society of Arts' first exhibition of 1881, was the first purchase by the Society for its permanent collection. Gibb was among New Zealand's most prolific nineteenth-century artists and exhibited both nationally and internationally.
229 Worcester Street was originally part of a block of land purchased by John Gibb on the corner of Barbadoes and Worcester Streets. He built three houses on the site. Two faced Barbadoes Street and the third, No. 229, faced Worcester Street. 'Gibb's Cottage' may have been built originally as a studio as the family initially lived in one of the Barbadoes Street houses which Gibb had named 'Merkland Villa' after his home 'Merkland Cottage' in Kirkintilloch, Scotland. However family records recall that Gibb spent his later years living at 229 Worcester Street and tending a large vegetable garden.
Evidence suggests that the dwelling was designed by the noted Canterbury architect Samuel Hurst Seager. A tender notice placed by Seager in 'The Press' of 16 March 1889, calls for tenders to erect a house in Worcester Street for J. Gibb esq. After studying in England for two years, Seager had returned to Canterbury in 1884, set up practice and made his mark as an architect with his design for the former Municipal Chambers (1887), on the corner of Worcester Boulevard and Oxford Terrace.
'Gibb's Cottage' is a typical colonial cottage. The form of the cottage suggests it may have been built in two stages. Decorative elements of the east section add an element of pretension not found in the west section. The principal facade of the south-east section has double hung multi-paned windows with a decorative head and brackets. The steeply-pitched gable features fretted barge boards and a finial. This is joined to the plainer west section by a small, elegant, hooded porch with decorative brackets. Internally, the south-east room displays evidence of having originally been a studio. The room features a timbered ceiling built into the external pitch of the roof form and evidence remains of a skylight to the east.
After John Gibb's death the cottage was left to his son William Menzies Gibb (1859-1931). Menzies Gibb had initially studied under his father at his Dunoon Academy and later attended the National Gallery School in Melbourne. He returned to Christchurch in 1882 where, like his father, he established himself as a professional artist and teacher. Menzies Gibb, a regular exhibitor with the Canterbury Society of Arts and a past President of the Society, practised in both portraiture and landscape and was nationally recognised as an artist of note. He died at 229 Worcester Street in July 1931.
Despite a number of alterations, this inner-city cottage has remained in domestic use and in relatively original condition. It has recently been restored and renovated and is now home to Christchurch Central Labour MP Mr Tim Barnett.
`Gibb's Cottage' is listed in Group 4 of the proposed City Plan.
Jenny May
City Design and Heritage