Cycling's Omnium world champion test-rides art bikes
24 September 2008
World champion cyclist Hayden Godfrey is back in training and plans a domestic build-up to his defence in March of the Omnium title he won in Manchester, England, earlier this year.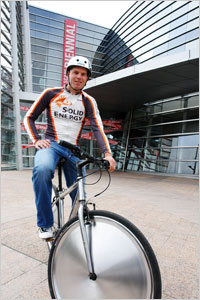 Today Hayden was at the Christchurch Art Gallery, Te Puna o Waiwhetu, test-riding one of 15 bikes which form the Solid Energy-supported artwork, Les Australoïdes, by Ann Veronica Janssens in the SCAPE 2008 Christchurch Biennial of Art in Public Space. 
Although not designed for competitive racing, the reflective disk wheels of artist Ann Veronica Janssens' bikes project for SCAPE 2008 have some similarity to the high-performance wheels used by velodrome riders.  Janssens' bike installations are proving popular with SCAPE audiences, with gallery staff reporting that the 15 bicycles are often all out, being used by people to tour the other temporary installations featuring in SCAPE 2008 which runs until 30 November.
Solid Energy has supported Hayden since 2004 when he was building up to the Athens Olympic Games.  Support from Solid Energy has enabled Hayden to purchase equipment to enhance his training and performances.  The Omnium is a new discipline which tests riders' abilities in sprinting and endurance over five events. 
Hayden Godfrey says he hopes to complete most of his build-up to the 2009 World Championships at home.  "I've had a good break but now I'm starting to ramp back into training," he says. "I'll be with the Subway Team again for the Tour of Southland in November and I'm looking forward to the Festival of Cycling racing in Christchurch in December.  I also plan to do the around-Taupo race and will do a memorial race on the West Coast.
"In January the New Zealand team will be at the World Cup meeting in Beijing and I'm hopeful of being with them for the scratch and Madison events and possibly as back-up for the team pursuit."  The 2009 UCI Track Cycling World Championships will be held in Pruskow, Poland, from 25-29 March.
For further information contact:
Vicki Blyth 
Telephone: 03 345 6000
Communications Director Mobile: 021 670 250
Solid Energy New Zealand Ltd

---