Beyond Frangipani and Hibiscus - Exhibitions Provide 'Wake Up Call' for Local Pacific Talent
17 December 2008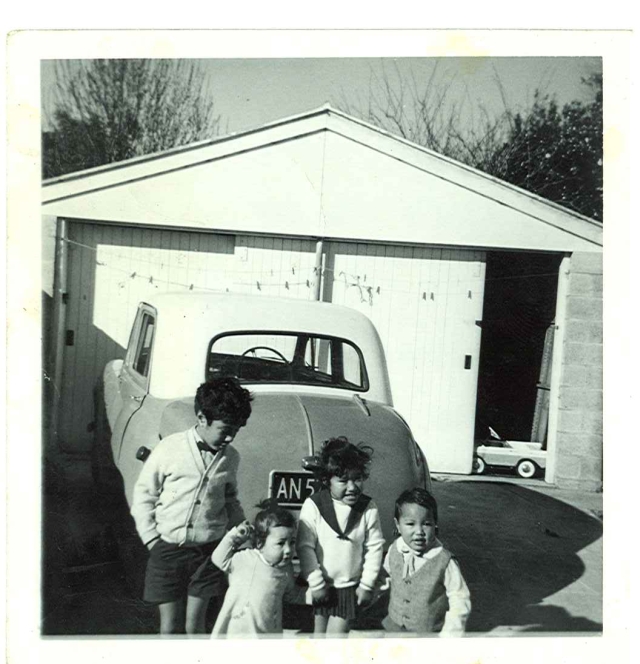 Artist Maria Ifopo says although the exhibition audience for Baby You Can Drive My Car may not know the people in the photograph or the car, they will hopefully identify with the experience and the memory. Photo courtesy of the Muagututi'a Family – 1970. The family's first car, an Austin Hummer 1959, always had them wondering if it would make the full trip when heading south to Dunedin.
The role of Christchurch as a southern hub for Polynesian creativity will be the focus of two art exhibitions at Our City O-Tautahi over the summer holiday period.
Bite Me!, curated by Stephanie Oberg and Baby You Can Drive My Car from artist and curator Felolini Maria Ifopo open in anticipation of the Iva Pacific Arts Festival 2009.
Ms Oberg said she had been looking for an opportunity to give the Christchurch public a friendly wake up call to the talented and respected Polynesian artists living and working in Canterbury.
The Contemporary Pacific artists included in this show are Lonnie Hutchinson, Stone Maka, and Raphael Stowers, with a guest artist Cerisse Palalagi from Auckland.
" Bite Me! is about revealing their variety in terms of visual style and working practise. These artists are not all about frangipani and hibiscus," says Oberg.
Meanwhile Christchurch-born Samoan artist Maria Ifopo invited Pacific Island families to submit photographs as part of the Baby You Can Drive My Car exhibition.
"Everyone has them; pictures of your family posing in front of cars.  I'm hoping to capture - through the pictures, a documentary of Pacific Island people settling in Aotearoa to the present day," says Ifopo.
The exhibitions open 16 December 2008 Our City O-Tautahi, corner Oxford Terrace and Worcester Boulevard, continuing until 4 February 2009, Monday – Saturday, 10am – 4pm. Admission Free.
---