Family gathering to farewell mural
20 May 2003
Graham Allan and son Ben re-visit storytime.
Christchurch City Councillor Chrissie Williams and her family experienced a moment of déjà vu at the weekend. They had gathered to farewell images of themselves and artist Tim Croucher that have adorned Christchurch City Libraries mobile bus for the past 13 years.
The artwork will be removed as part of a refurbishment of the Mobile Library, which is to be repainted and receive an internal refit.
" We're sad to see the mural go but it has lasted a very long time. The Mobile Library provides a wonderful service for our residents and with these improvements will offer an even more enjoyable experience," says Chrissie Williams.
The new look bus will sport the library's promotional characters and brand colours of orange and blue. Shelving will be re-organised and the bus steps will be improved, with a ramp and lower step heights to provide easier access. The bus' well known number plate 'BØØKS' will remain. In order to complete the refurbishment, the Mobile Library will be taken off the road from this week until 21 June.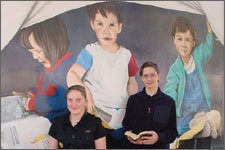 From toddlers to teenagers, Brigid and Nicholas Spittal-Williams' taste in books has also matured .
There was much laughter as the original models for the mural lined up against their earlier images. Chrissie's partner, Graham Allan and son Ben relived the moment of story time when Ben's choice of reading material was Spot's first walk. Needless to say Ben's taste in books has matured since then. Chrissie's niece and nephew, Brigid and Nicholas Spittal-Williams also reflected on the occasion and how they had changed. Artist Tim Croucher, who is Graham Allan's step-brother, has since moved to Hamilton and was unable to be part of the experience.
This mural may disappear but fans of Tim's work can still see other examples of his art around the city. The Dominion Breweries Warehouse in Brougham Street, Bronski's Dairy in Ferry Road and the much talked about welders on the wall of the Big Fresh carpark in Madras Street all feature his larger than life characters.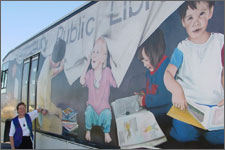 Councillor Chrissie Williams reflects on her original modelling assignment 13 years ago.
---