Horizons widened by free computer classes
10 January 2003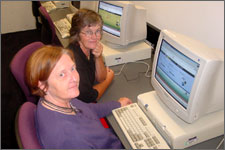 Rosemary Spiewak (front) keeps in touch with friends and family on-line with the help of Christchurch City Libraries staff member Wendy at Central City Library
With family and friends living all around New Zealand and no computer at home, Hillmorton resident Rosemary Spiewak uses Christchurch City Libraries to keep in touch on-line.
Rosemary learnt how to use email through the library and has been coming to free computer classes at Central City Library, Gloucester St since September, last year. She has taken full advantage of the programmes on offer, completing classes on computing for absolute beginners; catalogue skills; introduction to the internet; searching and evaluation of the internet; email; word processing and basic page layout skills.
Most classes are held on weekdays, although there will be 'Introduction to the Internet' classes on two upcoming Saturdays - 25 January and 22 February. Each class lasts up to one and a half hours.
For Rosemary, the trip into town gives her the chance "to catch the bus, browse the shops, do the course and get back home on the bus for just the price of the bus fare." Apart from the convenience of emailing her daughter and getting an instant response, Rosemary is looking to the future in terms of her computer use.
"Everything is computerised these days. I would like to go back to varsity and these computers skills are absolutely essential to me. I also used to own my own shop and if I wanted to get back into retail I would need to know how to use a computer," says Rosemary, who plans to buy a home computer soon.
"I'll still come to the classes at the library though. I've repeated some of them and I really like the one on one attention," says Rosemary. This year, she is looking forward to taking some of the new classes on library databases and publisher. "I've picked up a timetable and an extra one for my brother who is new to using computers," says Rosemary. She is also excited about the amount of genealogical information on the web. "I'm researching my family history and there's so much information available on the internet."
"It's great to be able to offer these tutorials to our customers," says Joan Simpson, Computing Resource Centre staff member at Central City Library. "Some of our community libraries also offer classes including Fendalton, Linwood, New Brighton, Shirley and Spreydon libraries. The classes are a perfect way for people starting out in computing to gain some basic hands-on skills".
More information is available at http://library.christchurch.org.nz or by phoning 941 7923.
Media Contact: Vicky Heward, Marketing Coordinator, Central City Library, Ph 941 7845
---