Prime Minister Helen Clark Views TV2 KidsFest Great Pipe Dream Sculpture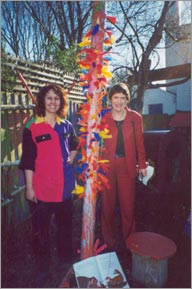 " Fantastic!" was how the Right Honourable Prime Minister Helen Clark described The Great Pipe Dream sculpture entitled "A Rooster Tree', created by children at Mozart Performing Arts School, St Albans, on Tuesday June 26th, for TV2 KidsFest.
Pre school children have contributed to the recycled botanical sculpture that was begun by the New Zealand College of Early Childhood Education, in preparation for this weekend's exhibition opening of over 30 huge and colourful sculptures, in the Christchurch Botanic Gardens Playground.
The Prime Minister admired the handiwork of dozens of children, and noted from the hundreds of multicoloured feathers attached that the construction was inspired by a story about a rooster.
The sculpture is the only exhibition piece to be created by pre-schoolers, and will take it's place among those made by nearly 20 schools over the last two months, all using recycled PVC piping, plastic bits-and-bobs, and many small toys.
Schools have produced complex structures over three metres in height, some incorporating arches and watering systems. Many are painted, and all have involved creativity, imagination, and at times complicated construction techniques that would be admired by professionals.
TV2 KidsFest Trust member Henry Sunderland conceptualised the project, which is the first of its type in New Zealand, "It has been an educative and exciting challenge to work with our young people and support them to discover creative solutions for recycling our industrial waste, but most importantly to have fun at the same time," He says. " 20 million tons of PVC plastics are produced annually on this planet, we need to care about what happens to this waste."
The Great Pipe Dream botanical garden scultpures will be on display throughout the two weeks of TV2 KidsFest, from June 30th to July 12th.
Material contributed by Connetics, Resene and School Supplies, and the event is proudly produced by Christchurch City Council Leisure, supported by TV2.
For more information: Contact Beatrice Cheer, PR and Promotions Coordinator – Events, Christchurch City Council Leisure ph 914 8495 or 025 86 88 71.
Website: http//:www.kidsfest.org.nz