| | |
| --- | --- |
| | 17 June 2002 |
First Hook Turn For New Zealand Roads
New Zealand's first hook turn will soon be installed in Christchurch, at the intersection of Memorial Avenue and Greers Road. The hook turn is a key component in a set of road safety improvements for cyclists around Burnside High School.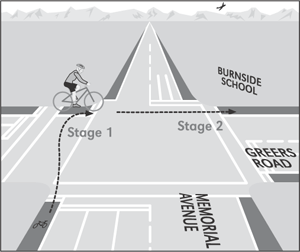 Christchurch City Council has recently received approval from the Land Transport Safety Authority (LTSA) for the hook turn. This new road feature is due to be in place by the end June.
The safety problem at the Memorial Avenue and Greers Road intersection was found through the City Council's "Safe Cycling to School" project, in which school children complete questionnaires to identify hazardous locations or problems encountered while cycling to school.
Burnside High School has nearly 600 daily cyclists, the highest number of any Christchurch school. It was the first school to be invited to participate in the Safe Cycling to School project, and the new hook turn will be the first Safe Cycling to School project to be implemented by the City Council.
Children cycling to Burnside High School identified that they found it very difficult to turn right from Memorial Ave into Greers Road, due to the high speeds and heavy flows of traffic.
Victoria Lawson, Cycle Planner at Christchurch City Council, says the problem was confirmed when Council staff monitored the intersection.
"We observed that of the 15 students cycling to Burnside High School each day who are turning right at memorial Avenue, only 2 dared to make the turn using the standard manoeuvre", says Lawson.
The hook turn offers a solution to the right-turn problem because it allows cyclists to make their right turn from Memorial Avenue into Greers Road whilst keeping left at all times, during two green light phases. In the first green phase cyclists on Memorial Ave cross Greers Road to a special marked area for cyclists within the intersection. This area, marked in red, provides a space where cyclists can wait for the second green phase to cross Memorial Avenue and continue along Greers Road towards Burnside High School.
Lawson says that by cyclists keeping left, a hook turn reduces conflict between cyclists and motorists, and improves cyclist safety.
"It is an alternative to making the normal right-turn manoeuvre, for cyclists who'd feel safer using this option. It is not a legal requirement to turn right using a hook turn", says Lawson.
Other improvements at this intersection and along Greers Road aim to help cyclists on their way to nearby Christ the Kings School and Cobham Intermediate School.
For more information: Victoria Lawson, Cycle Planner, Christchurch City Council, ph: 941 8614.
---