Final link of Woolston-Burwood Expressway to be constructed soon
A final link in Christchurch's eastern ring road, from Eureka Street to Birch Street, is about to be constructed, completing the expressway corridor from Main North Road (at St Bedes College) to Dyers Road.
On completion of the expressway, Transit New Zealand proposes to relocate State Highway 74 to the eastern ring road. Currently State Highway 74 provides access to the Port of Lyttleton from the north of Christchurch through the central city area.
The first stage of the Woolston-Burwood Expressway (from Travis Road to Eureka Street) was completed in two parts during 2000 and 2001.
Contractors Isaac Construction Ltd will begin work on the final stage in July, with construction expected to take eleven to thirteen months. It will be constructed in two sections, firstly north of Pages Road towards Wainoni Road, and then south of Pages Road towards Birch Street.
The project involves the construction of a two-lane road, with a shared cycle/pedestrian pathway on the south side adjacent to the road. The existing roundabout at the intersection of Pages Road and Bexley Road will be removed and the entrance to each side of Bexley Road narrowed to emphasise the residential nature of the street. A new traffic signal-controlled intersection will be installed where the expressway intersects with Pages Road.
The permanent closures of Eureka Street, Carisbrooke Street, Bexley Road (north and south), Brook Street and Birch Street have been legally processed as part of the project. The contractor will ensure that residents are notified of when the physical closures are to take place.
Additional features of the work will include a new park-like area to the south of Eureka Street on the riverside of the new expressway (opposite Carisbrooke St). It will be planted with shrubs and specimen trees. The vertical riverbank will be regraded to slope gently to the water's edge providing river access via an informal beach. Other improvements will help towards reducing the effects of flooding which has always been a problem in this low lying area of the city.
While the work is being undertaken, the construction site will not be accessible to the public, resulting in the probable blockage of some existing informal walking routes, particularly from Farnborough Reserve through the currently empty road corridor to Pages Road.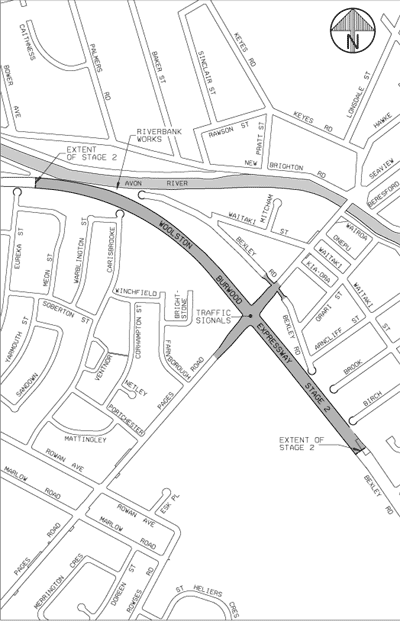 Christchurch City Council and Transit New Zealand have jointly funded all stages of the expressway.
For more information: Contact Jeanette Ward, Christchurch City Council, ph: 941 8665.