| | |
| --- | --- |
| | 27 June 2001 |
Annual Book Sale – More Than You Think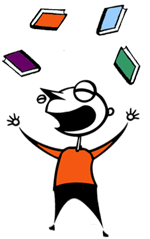 It may be the 15th year running that Christchurch City Libraries has run its legendary book sale but bargain hunters this year will get more choice than ever before.
"We have over 45,000 books on sale this year," says Vicky Heward, the library's Promotions and Publications Specialist. "These books may have outlived their 'library life' but they are still a fantastic resource. We hope they all find good homes."
This is a wish likely to be filled.
Once the public has had the chance to take home their favourites, more than 70 community service groups will be invited to take the remainder for their needs.
"This is one way we can help the whole community. Groups such as Women's Refuge, the Salvation Army and kindergartens can take away any books they think the people who use their services may appreciate. Children overseas will also benefit. Representatives from Burnham Military Camp have been invited to take books for children in East Timor and a policeman, who has been doing a peace-keeping stint in the Solomon Islands, would like to send books there," Vicky Heward says.
The sale will run from 9am-9pm Friday 13 July and 9am-3pm Saturday 14 July at Hall C in the Christchurch Convention Centre. Book prices range from 50c to $2 each.
Photo Opportunities:
A specific type of shot can be organised for Friday 29 June at 2pm. Advance notice is required.
A general shot is possible when books are being prepared for sale on Monday 2 or Tuesday 3 July at the Central City Library store, 180 Smith Street, Christchurch.
Service groups are invited to come and collect post sale books Saturday 14 July 3.30 – 4.30pm in Hall C of the Convention Centre.
Please Make Contact The Week Before If You Would Like To Take Photos Here As Permission Will Need To Be Sought From The Groups Involved.
More information contact:
Neil Fitzgerald,
Reference Librarian ANZC, Central City Library,
372 7902
Vicky Heward, Promotions & Publications Specialist, Central City Library,
372 7845.
---