| | |
| --- | --- |
| | 7 December 2001 |
Leadership role acknowledged for Christchurch City Libraries
Hard work and team effort recently paid off for staff at Christchurch City Libraries.
A Leadership Development Programme, produced by its Human Resources Department has won the Human Resources Institute of New Zealand (HRINZ) Southern Regional Award for innovation in the category of Influence and Change. Approximately 200 business and organisational representatives attended the awards held in Wellington on 28 November.
"We are thrilled that our Human Resources team has been acknowledged in this way," says Christchurch City Libraries Manager, Sue Sutherland. "We are also proud to see libraries measuring up to commercial companies and coming out a winner, we were the only public organisation to win an award."
The Leadership Development Programme was put in place in the libraries this year to support staff in their team leader role. Throughout the programme 12 team leaders worked with a management coach on a fortnightly basis to build individual skills and networks with other team leaders for mutual peer support. Specific skills that were developed included self-management strategies, how to work with library management and the development of coaching skills and behaviours.
"The programme is already showing benefits for our team leaders and this award is an exciting way to top off its success," says Sue Sutherland.
More information can be found at www.hrinz.org.nz/events/awards/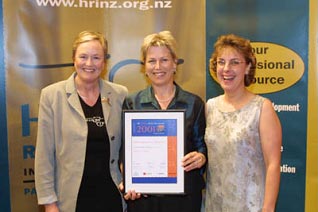 Award winners (from left): Sue Sutherland, Christchurch City Libraries Manager, Debbie Dawson, Human Resources Manager for Christchurch City Libraries, Nicola Campbell, Development and Training Co-ordinator for Christchurch City Libraries.
For more information, please contact:
Debbie Dawson, Human Resources Manager, Central City Library, phone: 372 7842
Vicky Heward, Promotions & Publications Specialist, Central City Library, phone: 372 7845
---